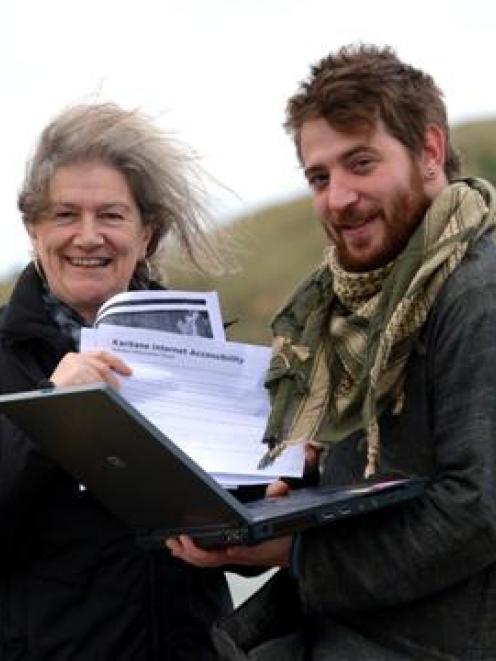 The slow and unreliable internet in Karitane is stunting the growth of the seaside town, local business owners say.
Bytewise IT Solutions owner Jacob Conway, of Karitane, said the petition for better internet was born from the frustration of 30 failed attempts trying to download software on a customer's computer.
The internet was inaccessible in Karitane between 3pm and 2am, he said.
The slow or non-existent internet was a challenge to running his business and he recently lost a contract to create a website, he said.
The petition asked for reliable, working internet rather than fast internet.
''I just want a minimum standard of internet that works at all times.''
In frustration, he called Vodafone and Telecom and staff from the telecommunications companies told him they were aware of the issue but had no plans for upgrades, he said.
Wireless internet was just as unreliable, he said.
Businesses were moving from Karitane, or deciding against setting up in Karitane.
The internet was poor in Warrington, Waitati, Seacliff and Waikouaiti and he hoped more communities with internet problems would join Karitane by creating petitions.
Karitane Store owner Sue O'Neill said the frustrated owners of an internet-based business recently moved from Karitane to Auckland because of poor internet.
The petition had more than 80 signatures and more were being collected in the store and would be handed to Parliament, she said.
A well-travelled tourist in her store recently told her the internet was more reliable in Nigeria.
''Is this is as good as it gets?'' Mrs O'Neill asked.
A Ministry of Business, Innovation and Employment spokesman said Karitane was due to get faster, reliable broadband under the Government's rural broadband initiative.
The Government was investing $300 million to bring faster broadband to rural communities by the end of 2016.
Fixed wireless broadband would be available in Karitane when the Vodafone site at Waikouaiti was upgraded in the 12 months beginning July 1 next year.
Parts of the fixed-line broadband network serving Karitane were also being upgraded and the community would be notified once the schedule is confirmed.
A Telecom spokeswoman said Telecom mobile broadband was possible in Karitane. However, the present coverage was limited, with no plans for the area in the immediate future.
Residents could investigate buying a Cel-Fi smart repeater for $946.14, which amplified a 3G mobile signal indoors.