Amy Adams has thrown her hat into the ring to become National's next leader.
National leader Bill English announced yesterday his intention to step down, saying this would give the party time to prepare for the next election in 2020. He would resign and leave Parliament on February 27.
Adams was supported by MPs Nikki Kaye, Chris Bishop, Tim Macindoe, and Maggie Barry at her announcement late this afternoon.
Adams, as Simon Bridges did earlier today, began by paying tribute to English, saying she had begged him to stay.
"We know we need to choose a leader to take us into 2020."
She said her ambition was to take National to victory in 2020 with a united caucus. Her reasons for standing are because she loves this country and it matters to her that it is a country that her children want to grow up in.
"I believe I am the best person for the job."
Adams believed said she could reflect a range of values including compassion and integrity, and a proven ability to get things done.
She said National didn't just need a vision, but also a plan to follow through. "I'll make sure New Zealanders know we care about them."
Adams said her MPs alongside here were not an indication of potential deputy leaders, but were there because they wanted to show support for her.
She said she grew up with a solo mother, married a farmer and had two children, and has spent 16 years as a lawyer so she could represent urban and rural people.
She also had held 10 portfolios as a minister and hoped she had demonstrated intellectual rigour.
Adams was born and raised in Auckland, had worked in the commercial field and chaired the local school board of trustees.
She said yesterday was the first day she had any discussions about the leadership, as she had wanted English to stay on.
She said strong economic growth and strong fiscal management was at the heart of the party, leading to creating opportunities for New Zealanders.
"It's not for me to play out what caucus has decided in that regard here."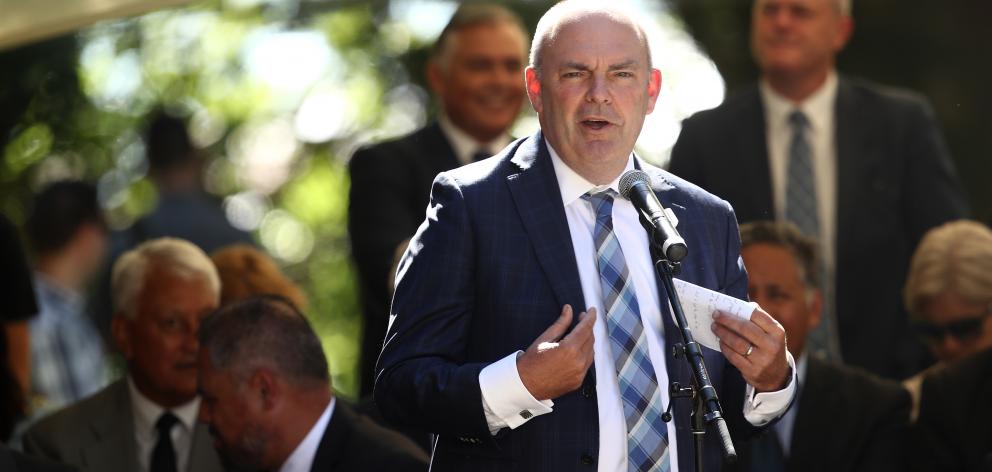 Senior National MP Steven Joyce is the latest to confirm he is considering running for the leadership and expects to make a final decision in the next few days.
National leader Bill English announced yesterday his intention to step down, saying this would give the party time to prepare for the next election in 2020. He would resign and leave Parliament on February 27.
Joyce told the New Zealand Herald today he was talking to other National MPs and supporters about the leadership "and considering my position".
"My motive is to ensure the best team is in place to beat the Labour Government in 2020 rather than personal ambition. The biggest focus is to stop the Government implementing the kind of policies that will damage New Zealand."
Judith Collins and Simon Bridges earlier today confirmed they will contest the leadership, which the caucus will vote on in a fortnight.
Others who have said they are considering a bid are Mark Mitchell and Jonathan Coleman. Paula Bennett has ruled out a leadership tilt, but wants to stay on as deputy - meaning somebody will have to challenge her if they want that job. Nikki Kaye has ruled out both positions.
Joyce was Finance Minister when English was Prime Minister and in former Prime Minister John Key's inner circle. He entered Parliament in 2008 and was appointed directly into Cabinet. He has led National's election campaigns since 2005, reforming the party and its campaign machinery.
Joyce was derided by some for his claim of an $11.7 billion hole in Labour's books during the campaign but has never directly said he was wrong. He filled in for English at Waitangi commemorations this year.
Joyce's influence has frustrated some in National and he has been blamed in some quarters for the failure of National to get back into Government after talks with NZ First leader Winston Peters. But others credit him for National's ongoing high polling and discipline.
Earlier today, Bridges put his hand up for the National Party leadership in an announcement at at Parliament, saying he believes he is the right person to lead the National Party to victory in 2020.
He said he represents a generational change as well as experience.
"I'm 41, I have a young family," he said. "Many colleagues have come to me to talk to me about it, and I feel like that strong support from the caucus."
He said the party needed to renew and refresh, and to represent the party principles, including individual freedom, personal responsibility, competition, strong families, and security.
"I'm pretty excited about this. I'm looking forward to the next two weeks.
"We do have to replace our leader, so a number have come to me. I've got good support."
Bridges said he had the highest regard for Adams, and whatever happens he will talk with her.
He said Judith Collins was a great person who brings a lot to caucus, and no matter what happens, she should be part of the National team. But he was focused on his own campaign.
Paula Bennett has ruled herself out of the leadership race, but will seek to stay on as deputy. Her announcement follows Judith Collins' confirmation this morning that she will contest the role.
Bennett said she believed her strength was in supporting the leader.
"It is in my role as deputy where I have the most to add. Our new leader will need help from an experienced, loyal deputy and I offer that.
Jonathan Coleman has declined to rule anything in or out. However, Nathan Guy and Nikki Kaye have ruled themselves out of the leadership contest.
Collins confirmed on Twitter this morning that she wants to be leader.
"I'm announcing my candidacy for Leader of the NZ National Party. We're going to need strong & decisive leadership if we're going to win in 2020. I'm that person," she said.
Collins said she was the best person to take on Prime Minister Jacinda Ardern, who was a "very, very formidable person".
"We need the strongest Opposition we can have. We certainly have the numbers but numbers don't translate into winning," Collins told Radio New Zealand.
"We are going to have to do better than just having the numbers."
Ardern was a formidable opponent, Collins said. "And we would be very foolish to underestimate her. I don't."
Collins had initially contested the leadership in 2016 but withdrew when it was clear English would win it. She said she meant business this time.
"I intend to be here for the ballot. I'm not messing around, this is not tiddly winks - it's the toughest game in town.
"I'm not putting my hand up to secure some prize. I'm putting my hand up because I believe I'm the best leader for the National Party at this time."
Asked if she could work with NZ First leader Winston Peters in future, Collins said politics was a form of business and she would work with whomever the voters decided. "You do what you have to do in politics, or else you're not relevant."
Meanwhile Coleman, arriving at Parliament this morning, said he had the ability to criticise the Government while being positive about the country - a skill mix English has said is important.
"I think I have those skills, but actually there are other people in the caucus that have those skills. The most important thing is we get the leadership team that can lead us to victory in 2020," Coleman said.
"That has to be the overriding consideration, rather than people's egos. It's one thing to become the Leader of the Opposition, but it's important we have a National Party Prime Minister in 2020 and we can achieve that."
Coleman, who has put up his hand for the leadership before, said it would be ideal to have a consensus in caucus.
"And that may emerge in the coming weeks, but at the same time, the caucus always has the right to have that vote, and sometimes it's better to have that vote and clear the air rather than go through a cycle of people, as Labour did.
"The country wants us focused on their concerns rather than National's internal battles.
"We're going to spend the next two weeks unfortunately having to focus on ourselves, and then after that we've really got to get behind whoever is the leader and their deputy, and go hard out for victory in 2020."
Asked if he would consider the deputy leadership, he said: "I'm not ruling anything in or out at this stage."
Nikki Kaye has had some support in online polls but said she was not standing for either leader or deputy. 
"Over the next 48 hours I'm sure things will become clearer and I want time to talk to my colleagues."
She said she believed there was "huge talent" in caucus.
Mark Mitchell has confirmed he is considering standing for the leadership but was yet to decide.
"It is a two-week process and we are on day one. So I am absolutely very carefully considering it but I haven't made a final decision yet."
He would talk to colleagues as well. But he ruled out standing on a "ticket" as a deputy. "I'm not considering deputy at all. I'm looking purely at the leadership."
He said he had the personal attributes and character to build a cohesive team.
"And I think I've got enough life experience to understand the direction the country is going in and what we need to be able to realise our true capability as a country."
Mitchell would be going to Australia tomorrow for a few days to support his daughter, who was representing New Zealand in surf boat champs.
The pack is likely to narrow down to two or three by the time caucus votes on it. That could be as soon as next week rather than letting it drag out, although English's resignation takes effect on February 27.
Those weighing it up were already talking to colleagues to assess support last night, but none would publicly comment yesterday, saying it was English's day.