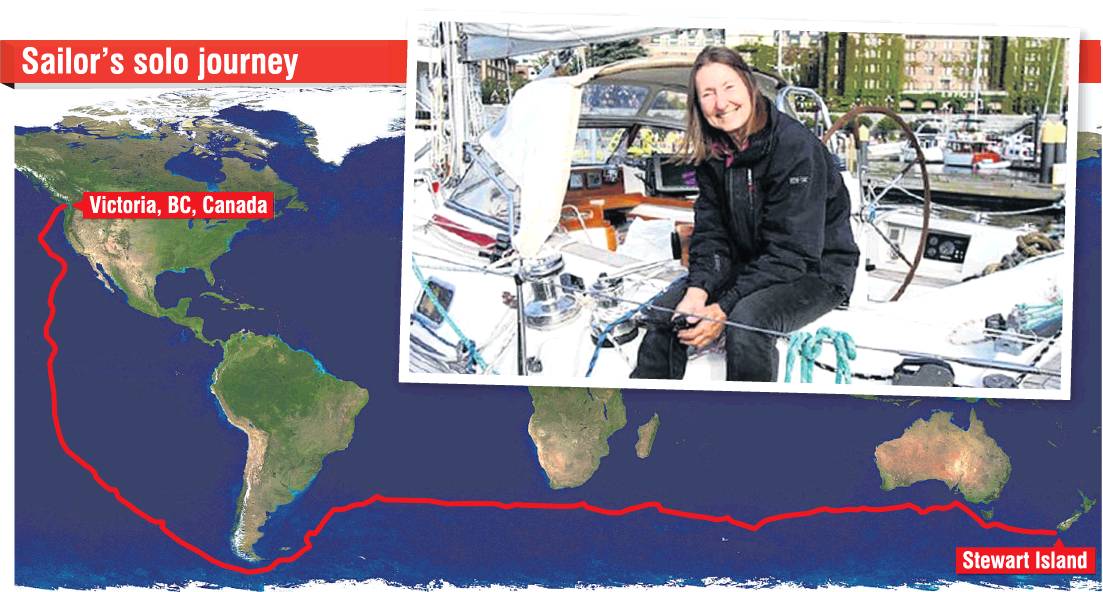 A British grandmother bidding to become the oldest person to sail around the world alone, without stopping and without help, is back on track after surviving near-disaster off Stewart Island.
Jeanne Socrates (76) left Victoria, the capital of British Columbia, on North America's west coast, in October last year on a journey expected to take up to eight months.
Since then, she has safely guided her 38-foot yacht Nereida around four of the five Great Capes of the Southern Ocean.
But the fifth and final hurdle - South Cape at the bottom of Stewart Island - almost proved her undoing.
Ms Socrates was heading towards Stewart Island on May 15 in 8m seas, surfing down the waves as winds gusted over 47 knots, when her yacht was "violently'' knocked flat by a giant wave crashing over it.
In blog posts since the incident, she said that she was "completely unhurt'' by the knockdown, but her yacht had not been so lucky.
Water had ripped off an air vent cover and damaged a window as it partly flooded the interior, leaving behind a "wet chaos'' of broken shelves, soaked clothing, bedding and other equipment inside.
"I couldn't move for wet stuff littering the floor.''
Luckily, the sails and rigging were intact, but her solar panels and wind generator were damaged and drogues designed to steady the vessel in stormy weather had been ripped clear of the stern and deployed in the water.
After the incident, Ms Socrates spent a few days sailing slowly north off the West Coast of the South Island, while carrying out repairs and waiting for conditions to ease.
She turned south again on Saturday, heading for Stewart Island again, and finally rounded South Cape on Wednesday, before turning north to head for home.
Her journey aimed to raise money for the Royal National Lifeboat Institution, which operates a fleet of lifeboats crewed by volunteers around the United Kingdom and Ireland.
Circumnavigation attempts have already earned Ms Socrates a place in the Guinness Book of Records.
In 2007, she circumnavigated from Mexico, heading west mainly through the tropics, but stopped along the way.
Her first two non-stop attempts, in 2009 and 2010-11, both came up short when she was forced to seek repairs in Cape Town each time.
Despite the setback, she continued her 2010-11 journey after repairs and completed a solo circumnavigation.
In 2013, after a journey stretching over 25,700 nautical miles and almost 260 days of sailing, she managed to do so again - this time becoming the first woman to sail solo and without stopping around the world from North America, as well as the oldest woman to do so from anywhere.
The journey, which included three months in the Southern Ocean, earned her a place in the Guinness Book of Records.
She is now attempting to go one better.