Nobody is happy with the way tsunami warnings were activated after the Kaikoura earthquake, but Acting Civil Defence Minister Gerry Brownlee says people have to remember those responsible for activating them are mostly volunteers.

The Government is investigating a national tsunami warning system, but in the meantime alarms are activated by each region's local Civil Defence organisation, he said yesterday.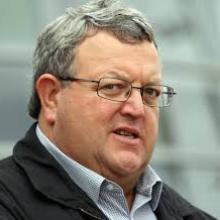 Mr Brownlee said neither he nor anyone, including Civil Defence, thought the response to the tsunami threat was acceptable.
"It actually brings into question the whole way in which Civil Defence is structured and I think we need to remember that it's structured pretty much on a volunteer basis,'' he said.
Mr Brownlee said given the magnitude-7.8 earthquake that triggered the tsunamis happened at 12.02am, he would like to think there could be people employed 24/7 "to protect against this''.
He acknowledged all political parties had indicated a willingness to resolve the issue together.
"The encouraging thing is people by and large did heed the warning and even though it was inconvenient for them ... they did make the right choices,'' he said.
Civil Defence director Sarah Stuart-Black said yesterday the response effort was "beginning to move towards recovery''.
HMNZS Canterbury was due back in Kaikoura yesterday from Lyttelton with supplies including power generators and fuel.
"We will be focusing on those rural, isolated and vulnerable households and continue to work with communities through the transition from response to recovery.''
She said there had been reports of multiple landslips blocking streams and river valleys, particularly in remote and rugged areas around Kaikoura.
"We urge people in those areas to be particularly vigilant and keep clear of river valleys and outlets.''
Controlled access through the inland road to Kaikoura for military and emergency vehicles was re-established yesterday.
A New Zealand Army convoy has arrived in Kaikoura with food and thousands of litres of petrol, diesel and water.
- NZ Herald/NZN