Six people are hurt, dozens have been evacuated and more than 20 homes damaged, including one completely destroyed, after a massive gas explosion left a Christchurch street looking like a war zone this morning.
Emergency services rushed to the scene of the explosion Marble Court, Northwood with a witness saying tiles on a house had been blown 100m "in every direction".
The force of the explosion, which was heard across large parts of Christchurch,  significantly damaged six homes and blew out windows in other parts of the street.
"The house is matchsticks. It's totally blown apart," one resident said.
A St John spokesman said six people at the scene had been assessed as having moderate to critical injuries and were being transported to Christchurch Hospital.
Fire and Emergency New Zealand (Fenz) said in a statement this afternoon the fire had now been extinguished, but multiple crews remained at the scene damping down the fire and cleaning up debris.
One property was completely destroyed, five severely affected and 17 impacted by debris.
Gas and power had been turned off to Brookwater Ave and Marble Court.
After the explosion residents in the street were told to turn off gas amid fears of another explosion and a van from a gas company was seen entering the cordon.
Confirmed as gas explosion, residents evacuated
Fenz area commander Dave Stackhouse confirmed it was a gas explosion.
Six homes had been significantly damaged and about 50 nearby residents have been evacuated to the Styx Country Club.
Mr Stackhouse said Northwood had a gas pipe system under the ground which was the reason why residents had been told to turn off gas.
Mr Stackhouse said it appeared six properties had been significantly damaged by the explosion.
He said all of Northwood was connected to piped gas, but at this stage it was not clear how there had been a leak.
"We've got our gas experts having a look at that," he said
"Once we've got the scene safe ... we'll look at what's caused this and carry out an investigation with police and WorkSafe."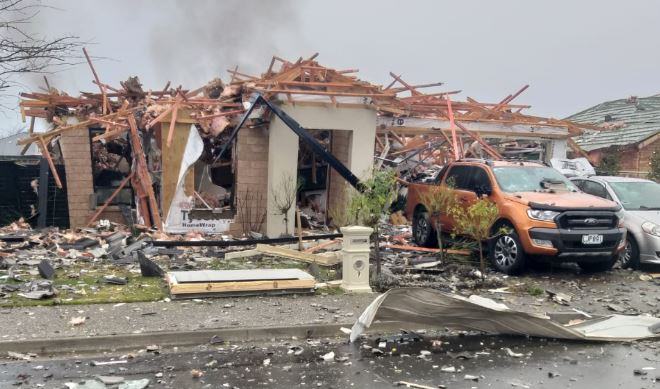 Mr Stackhouse said his initial reaction to the explosion was "we are pretty lucky" more people weren't hurt but that the condition of those who have been injured was a concern.
A police spokeswoman said it was called on at 10.21am to assist with Fire and Emergency New Zealand (Fenz) after reports of an explosion on the street where a house is on fire.
A Fenz spokeswoman said it was made aware of a large house fire at 10.15am at Marble Court in Northwood.
Styx Mill Country Club employee Tom White said six police cars and two fire trucks were on scene at 10.38am.
Mr White said concrete tiles from the roof of the house had been blown 100m in every direction.
"The house is matchsticks. It's totally blown apart."
"It's caused a lot of destruction to other houses, its blown the garage door right of the next-door neighbour's house."
Northwood Residents Association chairman Clive Smith had contacted ELGAS, the gas supplier, which indicated the gas supply had been isolated in the vicinity of the issue.
There were gas technicians monitoring the system.
Emergency services told Mr Smith electricity had been turned off in the area meaning there will be no hot water or heating for nearby residents.
Mr Smith said residents who are affected and "need looking after" can contact him on 03 323 7527 or northwoodresidents@gmail.com. 
Mohamad Soleymani Ashtiani, the landlord for a property which backs on the house which exploded said he suspects gas was the cause.
"I can't see what else it would be."  
Christchurch city councillor Aaron Keown, who is at the scene, said windows on a number of houses in the street have been blown out by the explosion.
He said the explosion was felt from his house, which is 2km away from the scene. 
Police said initial reports suggested a number of people have been injured.
Police were assisting with evacuations and road closures.
Motorists are advised to follow diversions and avoid the area.
'We thought it was a plane crash'
Julie McLachlan, who lives about a street away from the explosion, saw debris falling in the sky.
"There was heaps of black smoke. I've never heard an explosion like it. It was just horrendous. My neighbour and I thought a plane had been hit.
"He (neighbour) thought some debris had fallen from a plane on to a house.
"Emergency services took a while to come. In the end it was one [emergency service vehicle] after another.
"The Fire Service told us to tell everybody to turn there gas off. They were were worried about gas building up and having another exp'osion."
A worker at a nearby motel and holiday park said the explosion shook nearby homes and sounded like a bomb had gone off.
"It was more than an earthquake, you'd think a bomb had gone off."
She said insulation and small debris had fallen down from the sky onto her property.
"We've had housing insulation raining down on our property so something's obviously had quite a large explosion."
A bystander says the debris is spread across the road.
Fire officers have been instructed to wear hard hats and safety equipment.
Reporter Sophie Cornish is at a police cordon on the at the intersection of Brookwater Ave and Millstream Drive.
"The house where the explosion happened is on a back section.
"An ambulance with its lights flashing and siren sounding has just left the scene.
"There's about six police cars, lots of residents and media at the cordon," she said.
With NZME