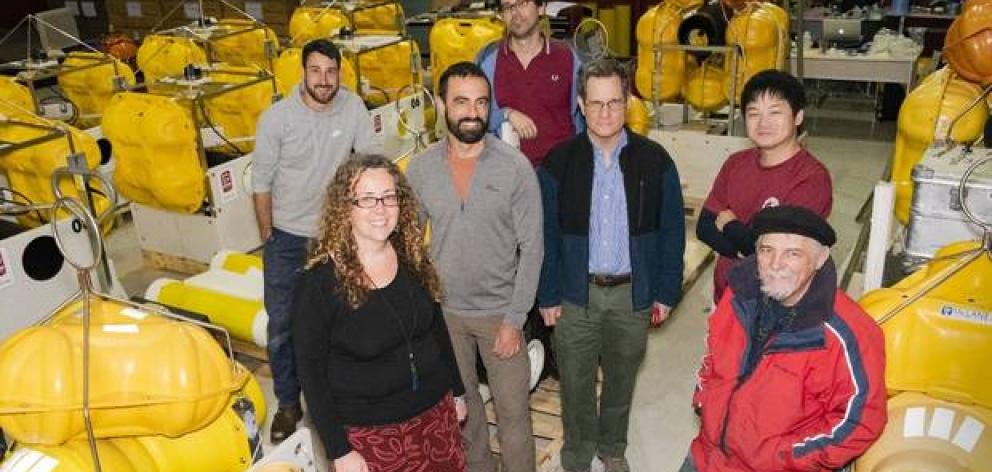 Scientists have successfully placed high-tech instruments along the East Coast seafloor, as part of a wider programme to keep tabs on New Zealand's biggest geological threat.
An international team of scientists set out this month to deploy the sensors at points across the Hikurangi Subduction Zone, a major offshore fault where the Pacific Plate dives - or subducts - westward beneath the North Island.
Scientists believe the subduction zone has the potential to unleash "megathrust" earthquakes larger than magnitude 8, such as those which created tsunamis that devastated Indonesia in 2004 and Japan in 2011.
Despite rough seas and bad weather, 30 high-tech instruments were deployed to collect crucial data over the next 12 months, while another 10 instruments were retrieved from a voyage last year.
The international team on Niwa's research vessel the RV Tangaroa included scientists from GNS Science and Victoria University of Wellington, Lamont Doherty Earth Observatory and Scripps Institution of Oceanography in the US, as well as Japan's Tohoku, Kyoto and Tokyo universities.
"Because so many interesting things are occurring on the Hikurangi subduction zone, New Zealand provides an ideal natural laboratory for these next-generation instruments," said expedition member Professor Spahr Webb, of Columbia University.
Several types of instruments were deployed, including latest generation of pressure ocean bottom seismometers.
These would measure the pressure at the bottom of the seafloor to record horizontal and vertical movement of the seabed at a centimetre level, as well as recording regular earthquakes and slow slip earthquakes.
"All these data will help paint a picture of the inner workings of the plate boundary offshore New Zealand's East Coast," said Dr Dan Barker, of GNS Science, which led the MBIE-funded project.
The data collected will be analysed by two Victoria University of Wellington PhD students over the next few years for their doctoral research.
The recorders will give scientists additional information to the two "quake labs" currently sitting 450m under the seafloor measuring temperature, chemistry and pressure changes at the Hikurangi subduction zone.
The expedition formed part of a wider international programme, which has already involved establishing two sub-seafloor earthquake observatories - making New Zealand only the fourth country in the world to have such capabilities.
The technology could help pave the way for offshore instrumentation needed for earthquake and tsunami early warning systems.