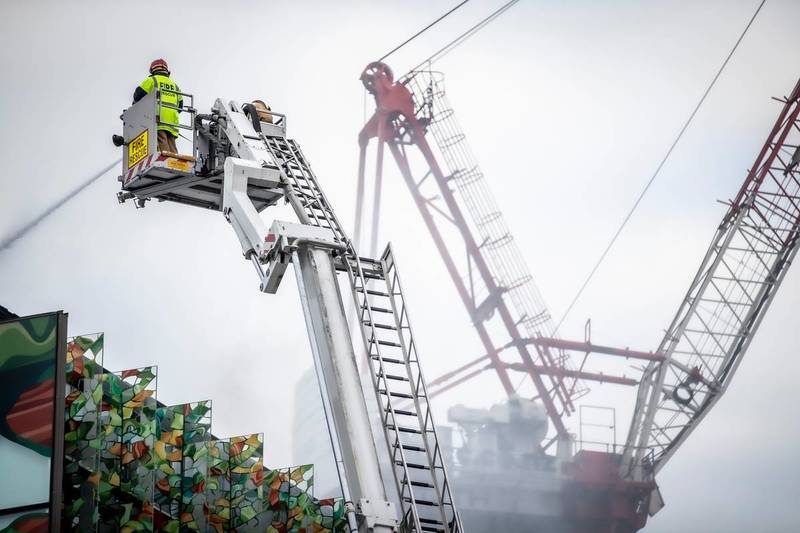 KEY POINTS
• Hot spots still flaring at convention centre roof, carpark 'underwater'
• SkyCity convention centre rooftop about 85%  burned through
• At the fire's peak, 130 firefighters were battling the inferno, which has been burning since 1.15pm on Tuesday
• Inner-city workers face another day of traffic disruption, several streets still closed 
Fire crews were continuing to attack hotspots in SkyCity's international convention centre on Thursday, with black and white smoke still billowing from central Auckland building at times.
Crews are now into their third day dealing with a massive blaze at the construction site, which began at 1.15pm on Tuesday.
Earlier today, Fire and Emergency NZ said the roof area, where the fire began, was under control and merely "smouldering" . But just before 2pm black smoke again filled Hobson St and minutes later flames could be seen on the roof.
Officials refused to speculate on how the fire started, but workers said they believed an unattended blowtorch could have ignited the straw-like acoustic layer, quickly spreading to the roof's bitumen membrane.
A priority is to protect the sides of the building not already damaged.
Fire and Emergency area commander Richard Twomey said crews have been using drones to look for hotspots, but said: "We're in a better place than yesterday''.
However, firefighters were "a bit fatigued''.
"It's just tiring. One of the challenges is that we keep rotating our staff as much as we can''.
Firefighters have been working tirelessly to quell the fire, with several taken to hospital as a result. Yesterday one was moderately injured after being struck by a piece of falling roof, suffering a concussion.
The fire has left a haze of smoke over Auckland's CBD, with many buildings in the immediate vicinity closed again today due to the air pollution and traffic disruption.
Windy conditions in the city are helping the smoke dissipate, but also appear to be fanning minor flare-ups.
Auckland Regional Public Health Service has advised people to take precautions because of lingering smoke affecting air quality across the CBD.
Basement carpark flooded
Firefighters have used 26 million litres of water trying to quell the blze, according to Watercare. Dozens of cars still in the basement are likely ruined, with water up to the windows.
Auckland Council's Safeswim manager Nick Vigar said about 1.5m of water was in the carpark, affecting about 100 cars. The water was being pumped out due to the risk of the contaminated water rising further.
Fire and Emergency was also working hard to ensure any run-off from water used to fight the fire was minimised, and Auckland Council and Watercare were monitoring this as the emergency continued.
SkyCity said it would fully compensate employees for any damage to their vehicles.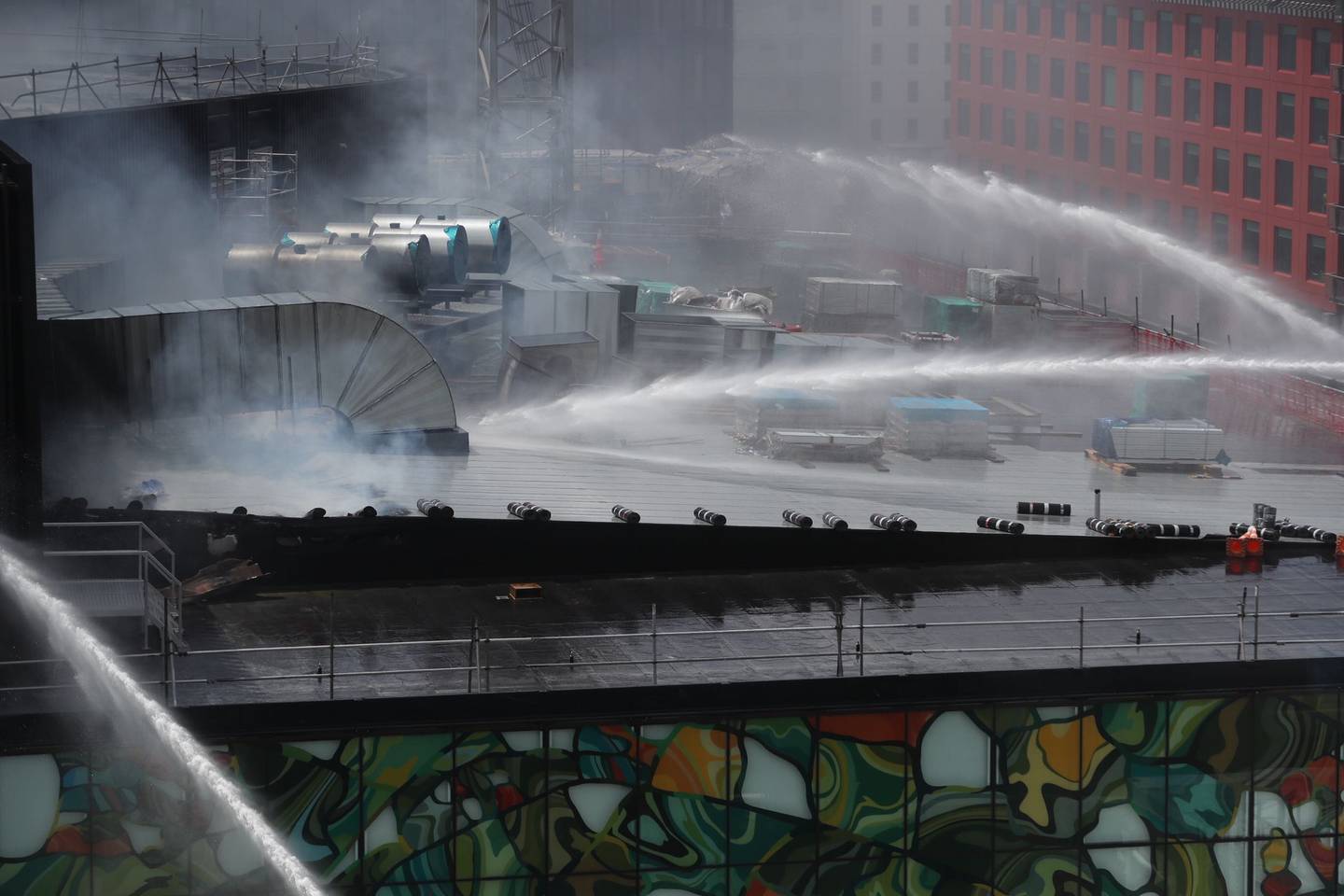 Part of precinct to reopen
SkyCity Entertainment says it will reopen parts of its Auckland precinct later today as it takes a phased approach to resuming normal business.
"Fire and emergency services teams will remain on site until such time as the fire is successfully extinguished and the site can be handed back to Fletcher Construction," Sky said in a statement.
Fletcher is the lead construction contractor on the convention centre and the adjacent Horizon Hotel.
SkyCity says once the extent of the damage is known, it and Fletcher will be able to determine the impact on how long it will take to complete the project "to the standard agreed with the New Zealand Government".
The project was supposed to have been completed by the first quarter of this year but, until the fire, that had been pushed out into the second half of 2020 and SkyCity has withheld $39.5 million in liquidated damages. Fletcher's liability for liquidated damages on the project is believed to be capped at about $40 million.
Legal issues
A construction law expert says the SkyCity fire could lead to a raft of legal issues.
Queen City Law's Marcus Beveridge said there'll be investigations into the blaze, which could see contractors heavily scrutinised.
But he said there'll also be issues about keeping workers on-hand until the construction is back up and running.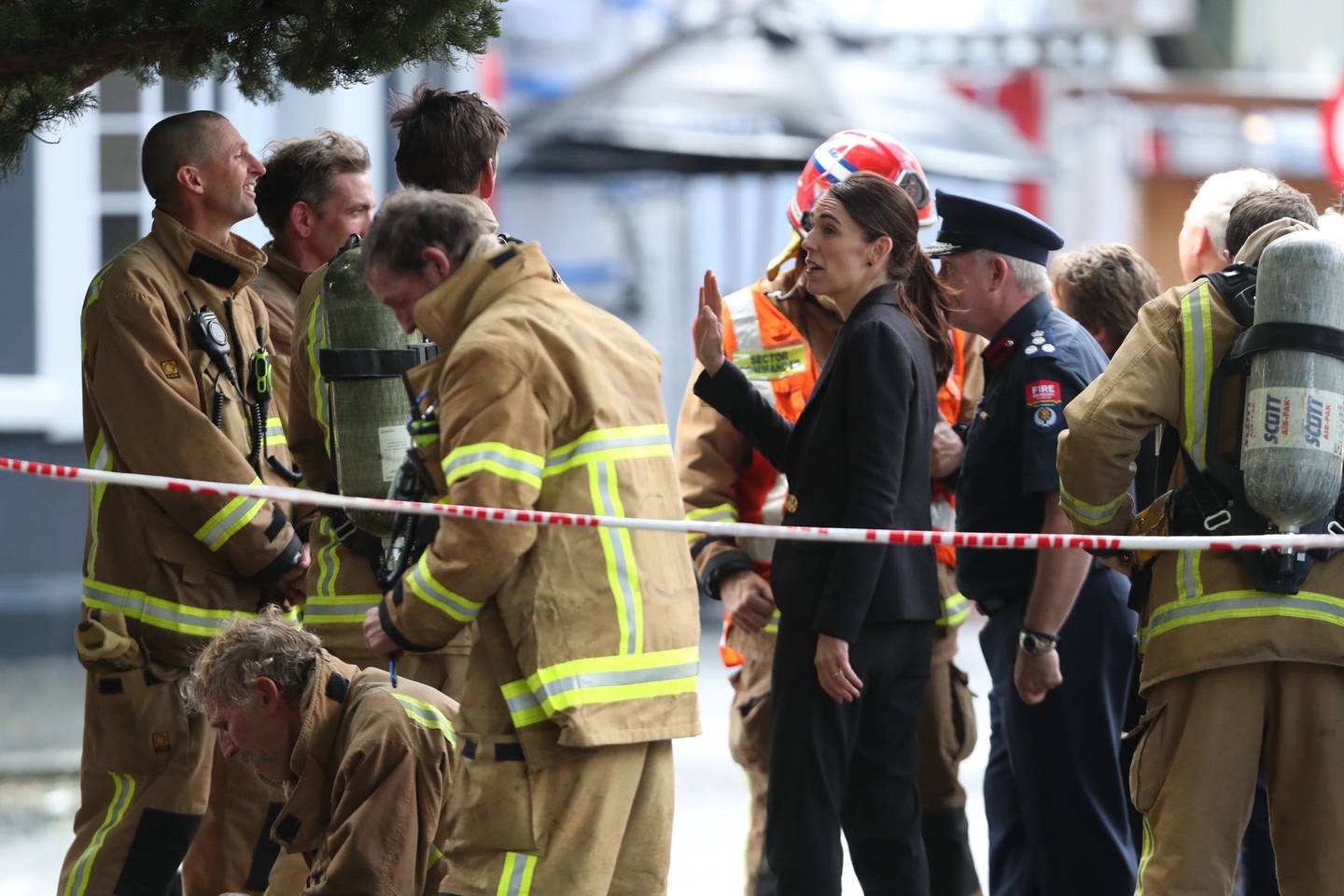 PM visits site
Prime Minister Jacinda Ardern, who visited the site yesterday, said she wanted to acknowledge the firefighters who had been working under difficult circumstances.
"The team on the ground have been incredibly professional, very focused on what they can do to preserve the building."
SkyCity chief executive Graeme Stephens said he hoped staff working on the convention centre project would be back at work tomorrow.
Stephens and Fletcher Building chief executive Ross Taylor were adamant that the centre would eventually open, although no timeframes could now be given.
"It was an amazingly iconic building yesterday and will be again.
"We will get the phoenix out of the ashes," Stephens said.
Taylor backed him up: "This is a very important project for SkyCity, Auckland and New Zealand and we will get this project finished to quality and make sure it's the iconic building and a very important piece of infrastructure Auckland and New Zealand needs. Fletcher is committed to getting the project finished and we will."
Ardern said Apec 2021 would still be held in Auckland, but the venue was a point of discussion for Government.
"New Zealand has hosted Apec before ... without a convention centre. We had contingency in place."