The South is set to remain at Alert Level 2 for at least another two weeks, despite Australia opening up quarantine-free travel from the South Island.
From 11.59pm today all fully vaccinated people living in the South Island can travel to Australia if they provide a negative Covid-19 test within 72 hours of departure.
They must also provide a declaration that they have not been in the North Island within the past two weeks.
However, New Zealand's borders - including the South Island, which has not had a community transmission case of Covid-19 for a year - remain sealed.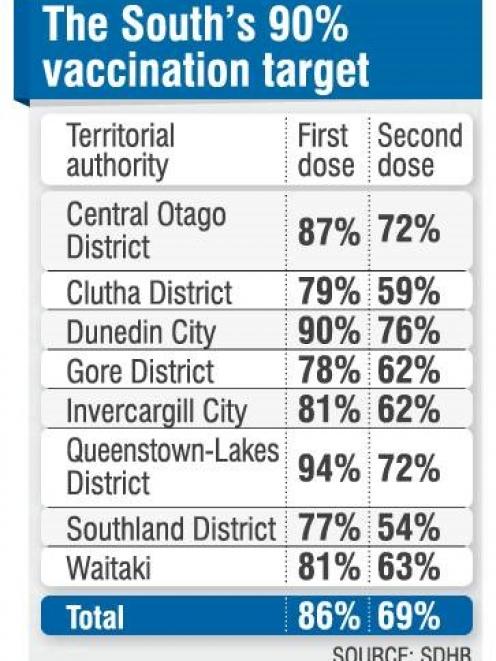 "New Zealand's border settings remain the same at this stage," a government spokesman said.
''Anyone travelling overseas would need to go through an MIQ facility on return."
After a Cabinet meeting yesterday, Prime Minister Jacinda Ardern announced current Covid-19 restrictions would remain in place for everywhere but Northland, which would drop to Alert Level 2.
The Cabinet also decided Auckland needed to remain at Level 3 for at least another fortnight.
Queenstown Lakes District Mayor Jim Boult said yesterday that when tourists did return to the southern resort town 95% of its eligible population would be double-vaccinated.
The Southern District Health Board (SDHB) yesterday released updated vaccination rates for the region.
After the Super Saturday vaccination drive at the weekend, the region - at 86% - had neared the first target of 90% of the eligible population with one dose.
Queenstown, at 94% topped the regional table. Dunedin, at 90%, had already reached it.
Mr Boult said with Christmas holidays approaching, the Otago destination would target a 95% vaccination rate for two doses next month.
It would help psychologically when residents were out in the town, knowing there was a 95% chance the person next to them had two doses, he said.
It would also protect the community when visitors from around New Zealand returned and would show those outside the district that the resort was open for business, Mr Boult said.
''I'd be surprised if the Government wants this lockdown and inability for New Zealanders to travel around their own country to continue beyond Christmas time.
''What a good message to send out to those people who are planning on coming here that this is a community that has gone to the trouble, and had the wherewithal, to go and get prepared for the return of the visitor industry."
Dunedin Mayor Aaron Hawkins agreed with Mr Boult, and said he, too, would be much happier if Dunedin got 95% of its population over age 12 double-vaccinated.
Hitting 90% for first doses was important because it meant it was more likely the city would hit that mark again for second doses.
Southern Covid-19 vaccination programme lead Hamish Brown said 449,725 vaccinations had been administered throughout the region.
Only 11,000 people needed to get their first dose for the whole SDHB area to pass the initial 90% target.
As the SDHB worked towards its goal of reaching at least 90% vaccinated by Christmas, there were still more than 110 providers across the district offering vaccinations, Mr Brown said.
There were outreach teams going into smaller communities to continue the progress, he said.
Planning was well under way with Gore Mayor Tracy Hicks and Southland Mayor Gary Tong for a ''farmgate tour" of the deep South early next month.
The tour would visit an estimated 20 to 25 small communities.