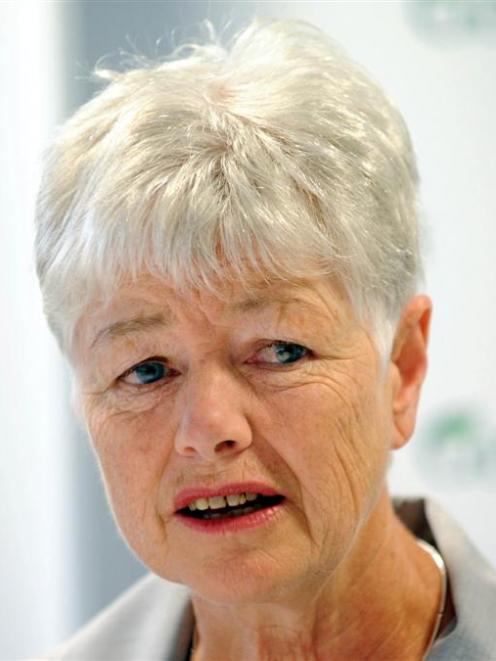 After 13 love-hate years in Parliament, Green Party founding member and former co-leader Jeanette Fitzsimons leaves next month.
Ms Fitzsimons wrote to Speaker Lockwood Smith this morning to say she will finish as an MP on February 11.

"It's been a huge privilege to lead the Greens in the New Zealand Parliament for the last 13 years and I have both loved it and hated it, but it's the right time now for me to go. It's the right time for me and the Greens," she told a press conference today.
The move is another step in the changing of the Green guard. Last year she stood down as co-leader and Sue Bradford resigned when Metiria Turei took on that role. Ms Fitzsimons had wanted to leave earlier, but the death of co-leader Rod Donald shortly after the 2005 election changed that.
Russel Norman, who succeeded Mr Donald as co-leader, said that had been appreciated.
"Jeanette has played a critical role in leading the Green Party through the first phase of our history and has mentored and supported a new wave of Green MPs and co-leaders." Ms Turei said she would be missed.
"We will have a very new team shortly in Parliament and that team is standing on the shoulders of Jeanette and Rod and Sue and all of those who first came in in 1999." Prime Minister John Key was effusive in his praise, saying Ms Fitzsimons had been a cornerstone of her party and her hard work and expertise were a loss.
"Her passion for the environment, coupled with her warm and engaging nature was a fearsome combination," Mr Key said.
"She has been a trailblazer in New Zealand politics but never let the political process distract her from her core values. This is a rare and commendable attribute."

Ms Fitzsimons recently turned 65. She said she wanted to give herself time to get stuck into a new line of work, possibly unpaid, in an area she cared about as well as spending time with on the farm, with her family and friends and having fun kayaking and going to the theatre.
She is taking a six month break before making any decisions about her future and has already ruled out taking a big role in the party administration.
"I will always be a Green Party member and I expect to be active in the party after a bit of a break."

There had been positives about her years in Parliament.
"I loved the feeling that sometimes you could make constructive change."

Chairing the local government and environment select committee for six years was satisfying. Proud achievements including getting into Parliament in the first place; having energy efficiency legislation passed and getting governments to pick up the party's home insulation policy.
"I enjoyed the negotiations with governments, particularly over the nine years with Helen Clark, and the things we managed to achieve in cooperation there and the new relationships that we pioneered under MMP. Each term we had a different relationship with the government which was new and so we have set the agenda there as well.
"I have hated the petty point scoring and bickering that goes on in the House; the triviality, the character assassination and I must admit at times I have hated the extremely long hours that you have to work to do this job."

Ms Fitzsimons said the party's best chance of getting in government was in 2002 which was blocked by Labour. However, it had and achieved legislative and budget gains without that.
"I am quite willing to say it's a regret I was never a minister because I think I would have made a good minister but ... the whole point about politics is you play the hand that you are dealt."

One hand she would rather not have been dealt was Mr Donald's death. His loss was still felt deeply by the party, she said. It also meant longer in Parliament for her.
"Certainly Rod and I had agreed that it was good to stagger the transition to a new leadership and that as I was older I would go first and he would do a further term. Well he welshed on that agreement and we can't blame him for that and so I did a further election from the one I had originally been planning."

Ms Fitzsimons said she found she still enjoyed it and had plenty of energy for the work.
"So I haven't regretted staying longer and I know that when I go in two weeks I am going to miss my Green colleagues enormously, because we're like a family here and I have become very close to them over the last 13 years, and that's going to be quite a gap in my life for a while."

Ms Fitzsimons said she was confident the party would thrive without her and reminded reporters of predictions the Greens would disappear after breaking from the Alliance and after Mr Donald's death.
"I think the big thing about the Green Party is we are not a presidential style party that collapses when the leader goes. You know we are not a New Zealand First, we are not a United Future."

Ms Fitzsimons was the first Green MP to speak in Parliament following the 1996 election -- where the party came in on special votes -- and she is believed to be the first Green candidate in the world to win an electorate in a first-past-the-post contest, winning Coromandel in 1999.
Ms Fitzsimons will be replaced by 28-year-old father of one, Gisborne-born Gareth Hughes.
Mr Hughes will shift from Auckland to Wellington following a job with Greenpeace. He has recently been coordinating its Sign On campaign, pushing for bold action from the New Zealand government on climate change.
Ms Fitzsimons said her advice to him was simple. Prioritise.
"Don't let yourself get so bogged down in the detail that you never get home at night."