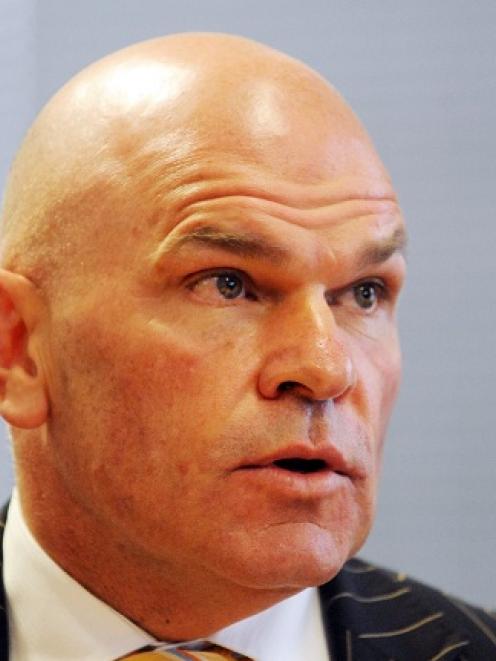 Rodney Hide has resigned as ACT leader, endorsing former National leader Don Brash to take his place.
Mr Hide made the announcement at a joint press conference with Dr Brash. Mr Hide backed Dr Brash's leadership and said Dr Brash had now joined the ACT Party.
Mr Hide has struggled with internal ACT ructions and revelations of his controversial spending of taxpayers' money on travel and Dr Brash said he had damaged its brand and needed to go.
Mr Hide said he was proud of what ACT had achieved and its support for the National Government.
"We have promised and we have delivered and we will continue to deliver stable, centre-right government."
Mr Hide said ACT's achievements in Government were insufficient to reverse New Zealand's economic and equality problems.
"This can only happen if ACT succeeds at this year's election in greater numbers and so strengthen the John Key-led National Government."
Mr Hide said he made his decision based on what was best for ACT and ensuring continued support for the Government.
"I believe that Don Brash is the best person to lead ACT to success in this year's election. I told the Prime Minister last night. I rang Don this morning to tell him he has my support."
A caucus meeting will be held on Saturday to decide the leadership and a board meeting will be held after it to endorse its decision.
"It was an enormous honour and a privilege to be the Member of Parliament for Epsom... and I have been both proud and humbled to be the leader of the ACT Party," Mr Hide said.
He had the same feelings about supporting the Government.
"I have always worked hard to the best of my abilities and with the best of motives. I've always put the country first and I've set high standards for myself. I have at times fallen short and then I've always worked to put whatever mistake I've made right and then not to repeat it."
Dr Brash, 70, announced over the weekend that he wanted to step into Mr Hide's role to prevent the party being wiped out in the November 26 general election and was as he needed support of three of the five MPs to back him. He had been courting Heather Roy, Sir Roger Douglas and Hilary Calvert.
Mr Hide, who is the MP for Epsom, will remain in Parliament as an ACT MP. He would like to retain his ministerial roles but says that is up to Prime Minister John Key. Mr Key earlier said it would be acceptable to him.
Mr Hide said he had assured Mr Key the confidence and supply agreement ACT has with the Government is safe.
"As far as the Government is concerned it's business as usual."
Labour leader Phil Goff said the change would have a devastating impact on the lives of middle and low-income New Zealanders.
"John Key has described Don Brash as an extremist. But he has also made it very clear that he is prepared to work with his former boss in a future government," Mr Goff said.
"Don Brash wants savage cuts to Government spending, including health and education. Working for Families and interest-free student loans would be gone and there would be a wholesale sell-off of our valuable community-owned state assets."
Dr Brash has previously indicated a preference for former Auckland Mayor John Banks to take the Epsom seat, currently held by Mr Hide.
"A relationship involving Don Brash and John Banks, at the head of the ACT Party, will allow National to pursue all the policies it has wanted to pursue but has been afraid to admit to so far," Mr Goff said.
"These are the kinds of policies that will hurt middle and low-income New Zealanders at a time when they are feeling the financial squeeze as a result of rising prices and National's shambolic handling of our economy."
United Future leader Peter Dunne also raised concerns about the possible effect of Dr Brash's takeover, saying it would horrify most people.
"Don Brash is a rigid right-wing ideologue - give him influence and a hand on power and watch the New Zealand we know become a harsher, more brutal place."