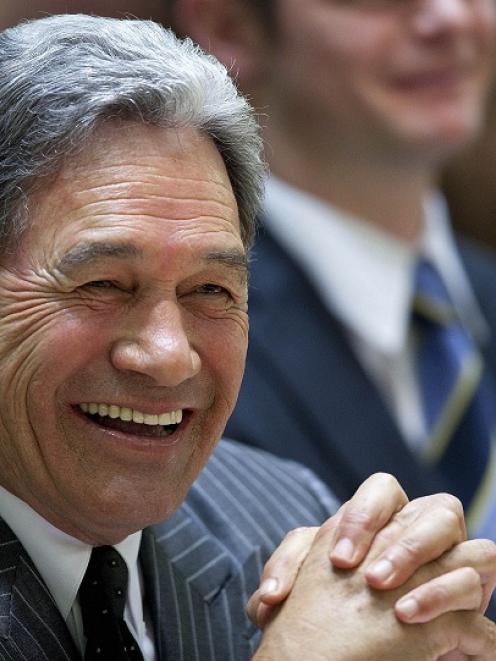 Winston Peters was in Hawkes Bay yesterday, hitting all the right notes with an enthusiastic local New Zealand First support base before what the veteran politician said would be a "tipping-point election".
Mr Peters spent time engaging with voters in central Hastings before holding public meetings at Princess Alexander and Summerset retirement villages in Napier.
"The Hawke's Bay used to be a wealthy, serious export province and could be again with the right policies," he told an audience of more than 100 at Summerset.
He said he knew many in the room "won't be able to help yourself" and would vote for National or Labour at this election.
"But you've got two votes, haven't you? That's the great thing about MMP. So on your second vote, after you've indulged yourself on your first one, buy yourself some insurance [with a party vote for New Zealand First]."
The party is not standing candidates in the Napier, Tukituki or Ikaroa Rawhiti electorates, but has put up experienced politician and former MP Ron Mark in Wairarapa.
"This is a tipping-point election. We want control of our resources and we are going to shut down foreign ownership of our land and our housing," Mr Peters said.
New Zealand First believed proposed local body amalgamation in the Hawkes Bay was a "real concern" if local communities did not get a say.
"The issue should be decided by you in Napier. What you want should be what the decision is -- not have it imposed by the politically appointed local government body in Wellington [who] come up here, try to flimflam some Hawkes Bay folks and tell you you can't do a thing about it. It's called democracy and democracy is still important."
He reiterated the party's policy to reopen the mothballed Napier-Gisborne rail line. The estimated $6 million cost of doing so was just a tenth of what the Novopay debacle had cost the Government, he said. "It should be fixed up and it will be important for the future, and it can be."
After the meeting Mr Peters told Hawke's Bay Today it was disappointing the party was not able to muster candidates in the Napier and Tukituki seats for this election.
"You're always looking around for people who've got the time, resources and the experience to do the job and although we come here a lot and campaign here a lot we just didn't get the rising numbers that we thought. That doesn't mean there's not an interest here as you've seen from today's meetings."
He said the case of Rotorua teacher and economist Fletcher Tabuteau, who was named in fourth spot on the party's list yesterday, showed New Zealand First could have a strong regional voice.
He is now assured of a seat in Parliament if the party passes the 5 per cent threshold.
- By Simon Hendery of Hawke's Bay Today