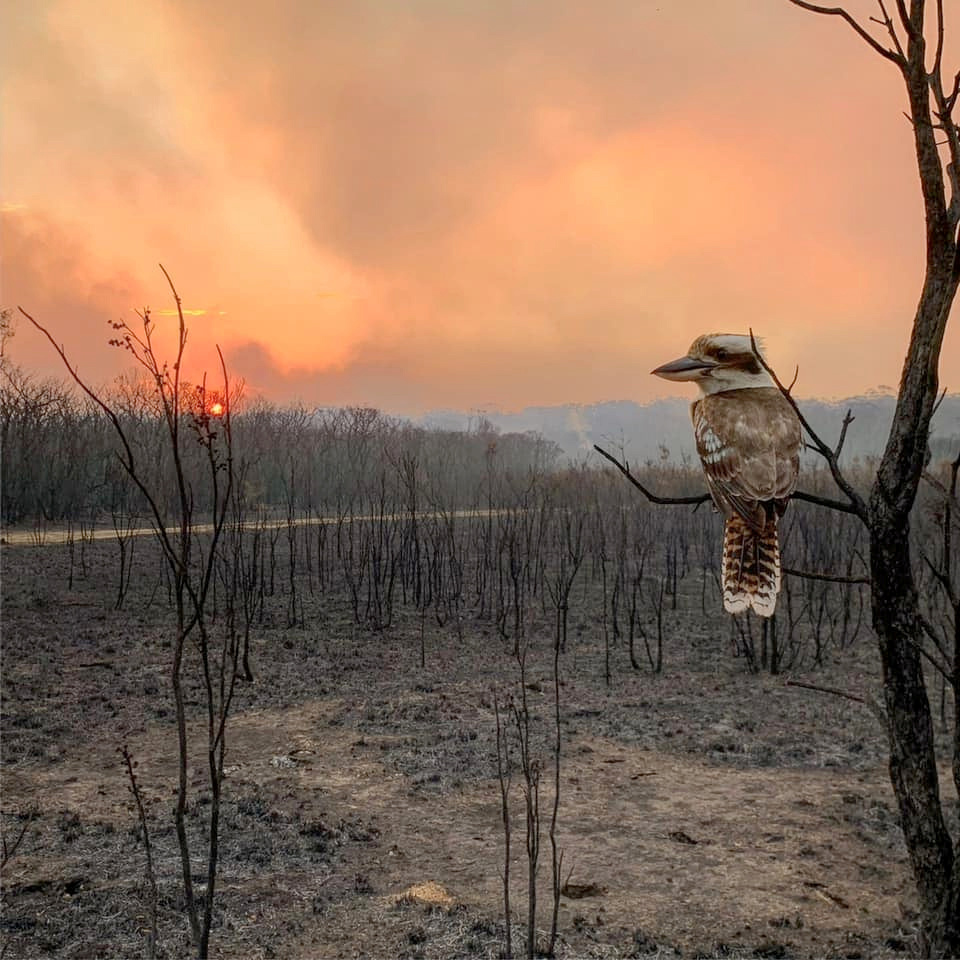 A man's body has been found in burnt-out bushland in New South Wales, taking the death toll from bushfires that have swept across Australia's east coast to four, police say.
Wildfires have destroyed about 1 million hectares of farmland and bush over the past week, fuelled by tinder-dry conditions after three years of drought that experts say has been exacerbated by climate change.
It was not immediately clear when the man died but the body was found near the town of Kempsey by local residents just before midnight on Tuesday, police said today.
"The man is yet to be formally identified, however, it's believed to be the body of a 58-year-old man who lived in a shed nearby," NSW Police said.
The latest death follows that of Julie Fletcher (63), who died in the town of Johns River, and Wytaliba locals Vivian Chaplain (69) and the elderly George Nole.
Kempsey is just over 400km north of Sydney, and has suffered under extreme conditions in recent weeks. Some 300 homes have been destroyed in NSW alone in recent days as flames stretched from the state's north coast to suburban Sydney.
More than 55 fires continue to burn around NSW on Thursday morning, with 24 uncontained and eight currently at 'watch and act' level. A total fire ban declared for NSW earlier this week has now lapsed.
Bushfires are common in Australia's hot, dry summers, but the ferocity and early arrival of the fires in the southern spring this year has caught many by surprise.
While conditions across Australia's east have eased, temperatures across the country's west coast are forecast to soar on Thursday.
Authorities said on Thursday they were monitoring a fire on the outskirts of Karratha, a major gas-processing hub on Australia's west coast. Temperatures are forecast to hit 43 degrees Celsius on Thursday in nearby Port Hedland, the world's largest iron ore export hub.
QUEENSLAND FIRES 
Queenslanders forced to flee their homes to escape from bushfires are in limbo as crews continue battle against blazes across the state.
Alerts telling residents to leave their properties remain in place for Black Snake, in the Gympie region, and the coastal town of Woodgate, south of Bundaberg, on Thursday afternoon.
Fire conditions in both areas have deteriorated and aren't expected to improve in the near term, the Queensland Fire and Emergency Services said.
More than 70 fires are now burning across the state since the current crisis erupted a week ago.
While authorities keep a close eye on the bigger fires, exhausted crews and those who have flown in from other states and New Zealand will make the most of a break in the weather.
That relief won't last long though, with forecasters expecting westerly winds to dominate conditions on Friday as the fire threat intensifies.
The weather bureau warns the westerlies will push extremely dry air back towards the coastal fringe.
"We would expect to see the maximum temperature quickly return to four-to-eight degrees above the November average on Friday and into the weekend," a spokeswoman said.
"When we combine that with the dry air, we expect to see elevated fire dangers once again as we head toward the weekend."
A large fire is still burning in difficult terrain near the five-star Spicers Peak Lodge on the Southern Downs, but it is not directly impacting properties.
There are a number of fires between Brisbane and the NSW border, including in the Scenic Rim west of the Gold Coast, and a blaze in Cobraball near Yeppoon in central Queensland, where 14 homes have been destroyed.
EX-FIRE BOSS SAYS CLIMATE CHANGE REAL
The fires have sparked increasingly acrimonious debate over climate and fire-prevention policies, with the ruling conservative Liberal Party and the minor opposition Australian Greens exchanging barbs.
Deputy Prime Minister Michael McCormack said earlier in the week that linking the fires to the government's support of the coal industry was "the ravings of some pure, enlightened and woke capital city greenies".
But the former head of Queensland's fire service has pointed to climate change as the driver behind dry conditions that are fanning dozens of bushfires across the state.
Lee Johnson, former Queensland Fire and Emergency Services Commissioner, said the bushfire season that has razed homes and hundreds of thousands of hectares of land was like nothing he'd seen in his decades-long career.
"I'm here for my children and my grandchildren, because I am fundamentally concerned about the impact and the damage coming from climate change," he said.
"There's something going on, and climate change are exacerbating the dry conditions we are all experiencing."
Mr Johnson warned conditions would remain extreme through the summer without significant rain.
There is no rain forecast until early next year.
"In Queensland alone, without speaking for the rest of the country, we need hundreds of millimetres of rain to bring the risk back to something like normal," Mr Johnson added.
"So our conditions are very much abnormal and driven very much by what's happening in our atmosphere, and that influenced by greenhouse gases."
- Reuters and AAP