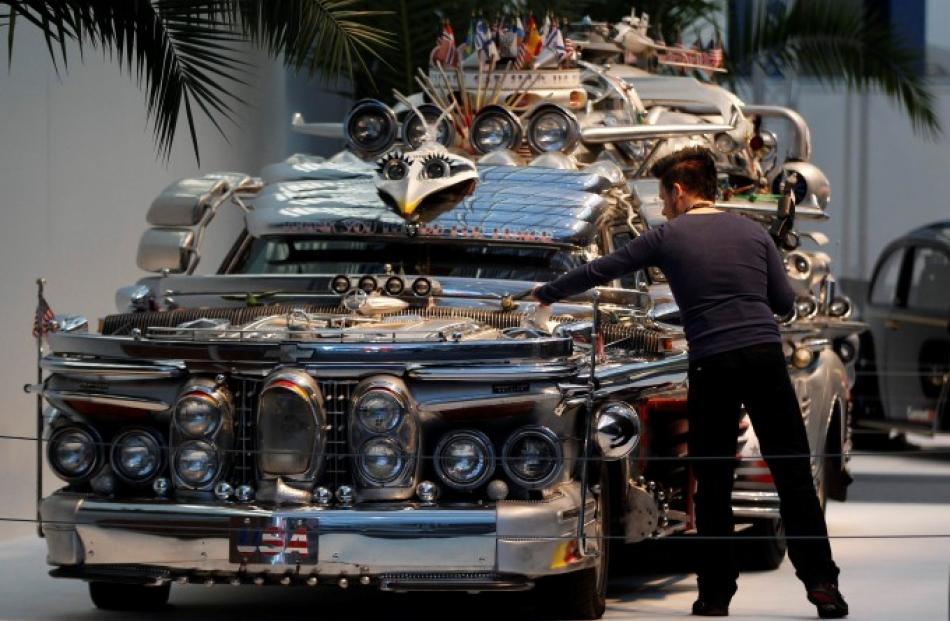 Doc's Harley-Davidson's Timeline motorcycle has gone on its longest road trip yet: a trek that has taken it to Chicago, the East Coast, and across the Atlantic Ocean to Germany.
Steve "Doc" Hopkins, owner of Doc's Harley-Davidson of Bonduel, has taken his bike to the Essen Motor Show, one of the largest motor shows in the world.
"We had a promoter find out about the Timeline motorcycle online," Hopkins told the Shawano Leader.
The saw the bike and were ''desperate to have it in Germany".
The bike was loaded into a trailer for its trip to Chicago, where it was placed into a large cargo container and hauled to New York via train. From there it was placed on a boat and shipped to Germany.
Hopkins said he had to arrive before the bike to talk about it on German television and take part in other public relations projects for the Essen Motor Show, which opened on December 1.
Hopkins built the 10-seat, seven-engine Timeline motorcycle in seven months in 2009. It is 25 feet (7.6m) long, seats 10 people and weighs approximately 3000 pounds (1360kg) - 5000 with a full crew on board.
"The whole theme of the motorcycle is that it shows the rolling history of all Harley-Davidson engines," he said.
Harley-Davidson began manufacturing motorcycles in 1903, but had only single-cylinder motorcycles until 1909 when it released its first V Twin.
The Timeline motorcycle has all seven engine models the Harley-Davidson motorcycle company has ever used, from the F-Head IOE engine in use from 1909-1929 to the current Twin Cam (Flathead).
"They all do run, they all power the bike," Hopkins said. "It was quite a chore getting them all tuned to run together and be happy together, but we do run all seven engines at once. I have a huge clutch on there that will handle 1000 horsepower."
On long road trips, Hopkins can disconnect the first six engines and run just the rear, most modern, motor.
"If you run all the motors all the time down the highway, the heat will come back into the next engine and it would harm the engines," Hopkins said. "For the short periods of time it's OK to run all seven."
Above each engine is a plaque that describes the motor and its history.
The Timeline, obviously, is unique in many other areas, as well. It has four wheels, two front forks and two rear wheels, because it has to bear so much weight. Hopkins put aircraft wheels on the rear of the bike to help the driver.
The motorcycle takes about a 60-foot radius, the same as a semi-truck, to make turns.
"It's a challenge to drive this thing," Hopkins said.
The Timeline holds a little more than nine gallons of fuel and got about 22 miles per gallon on a road trip in 2009.