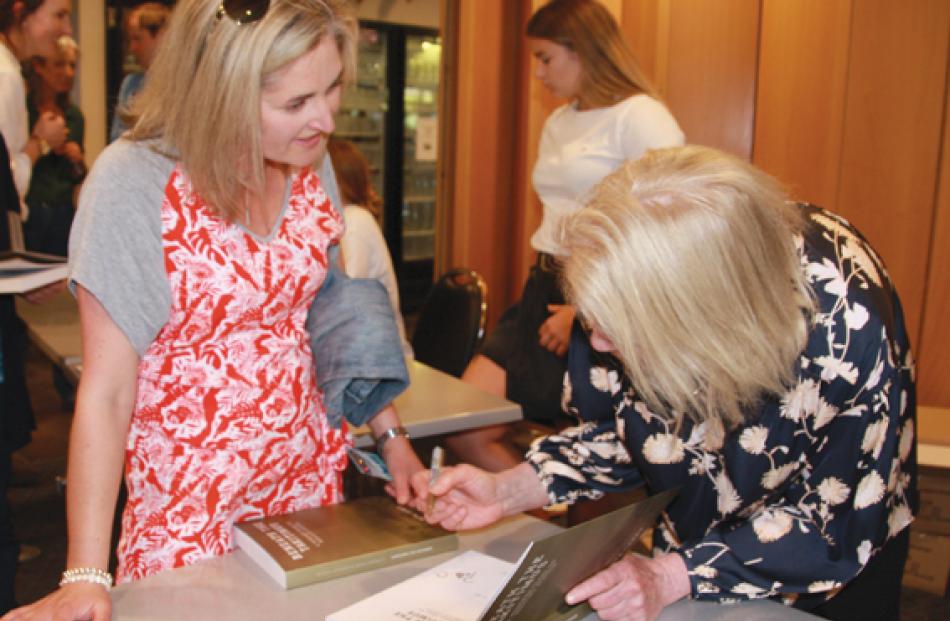 Family, friends and members of the community were at the launch of "Beneath the Takitimus" at the Te Anau Club on the Saturday of Labour Weekend, to celebrate twenty years of research, sweat and tears but the end result is magnificent for future generations of the Speight Family celebrating 100 years of owning the Redclff Station.
Speakers at the launch Bridget Speight, Simon Speight of Auckland, cousin of Bridget and son of David and Mairi Speight ex Tower Peak, author Peta Carey and Shane Gibbons Whare Creek Station. partner of Bridget.
The book was a "work in progress" for researcher Bridget Speight to complete. The book was dedicated to her father Bill, as he was always conscious of the land and has made me appreciate where I have come from. Bridget is the youngest in a family of three, other siblings are Pip and Alfie.
Bridget said "I could have easily given up, but the decision to find an author changed all that, when I found Peta Carey. It meant that I had to get it over the line, keeping me accountable along the way".
The idea 20 years ago was of compiling four generations of Speight Family history on Redcliff Station, a vast sheep and cattle station bordering the Waiau River and Fiordland National Park on the west, and rising up the flanks of the Takitimu Mountains to the east.
Bridget had a wealth of photographs, records and diaries at her disposal saved by her father, Bill.
"The reason partly was because my father was interested in photography and he had a darkroom in the homestead, developing his own photographs."
Initially the idea for a book was meant as a record just for family, with say 30 copies for family but on typing out old entries in her research, she saw the potential for a wider interest for local history buffs such as herself. She decided to interview some local identities, Jean Chartres and Joe Galland, further on in the process, tracked down Fergus Paterson, George Pollard and others. This was much more interesting and Bridget now had a book, which was now not just going to be about the Speight Family but also include the wider community.
When Charles Speight came to the district in 1918, there were only a few undeveloped grazing Runs. The main access for Redcliff was via Blackmount. It probably seemed very isolated for 17-year old Allan Speight when he arrived at Redcliff for the first time.
"When Bill was growing up, he and his 3 brothers Bob, Jim and David were growing up in the late 1940's, early 1950's and it was period of exciting growth going on in the Fiordland Basin, said Bridget.
"The Fiordland National Park had been created and at the age of 16, Bill drove a group of friends up to the Homer Tunnel, which was not yet open, the Te Ana-au Glowworm Caves had been discovered and Lands and Survey Department moved into Te Anau Basin.
Farming practices, the boys growing up, boating on Lake Te Anau, racehorses and gliding, amongst other things were all dealt during the research of the book.
Redcliff's hill country was sold in 1996 and Bridget and Shane now farm the remainder, along with 120ha of adjacent land.
Bridget and her partner Shane have two children, Jack and Janey and originally managed Redcliff for Bridget's parents Bill and Hilda.
Author, Peta Carey is a freelance writer and documentary film maker based in Queenstown. She has written extensively about Fiordland and has a deep connection with the area and its history. Beneath the Takitimus is her second book.
The final product "Beneath the Takitimus", designed by Feast Creative is a compilation of a record of history, photographs, diagrams and maps recounting a hundred years of life on the station that was owned and managed by the descendants of Speight's Brewery in Dunedin.
 - Julie Walls