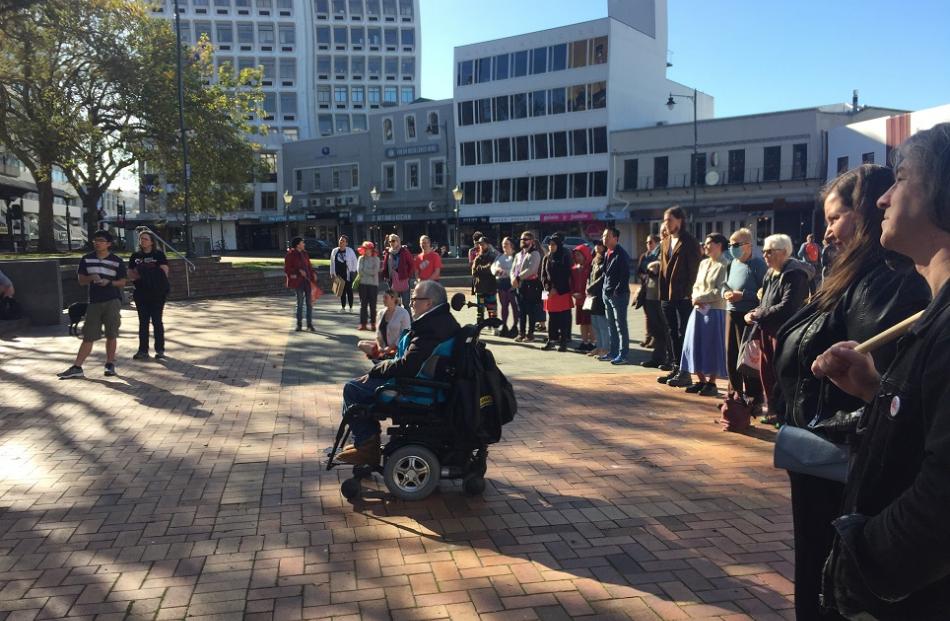 Unions Otago held a public rally in the Octagon, Dunedin on Saturday to celebrate May Day.
The rally called for urgent lifting of the unemployment benefit and all Government benefits, and for solidarity with the people of Myanmar in their struggle for democracy.
Unions Otago President and member of NZEI union Andrew Tait spoke to the link between wages and the dole: raising one helps raise the other. He described how unions fought in the 1930s for unemployed people's rights and helped establish the welfare state, but in 1991 the National Government's budget slashed the unemployment benefit and other benefits and they undermined unions. He also spoke about the involvement, and persecution, of workers, unions, and activists in the struggle for democracy goin on in Myanmar.
Dave Kearns from the Rail and Maritime Union and Unions Otago spoke about the solidarity between people in unions and people on the benefit.
Chris Ford from the Disabled People's Assembly spoke about the need for the Government to urgently implement the Welfare Expert Advisory Group's recommendations and the United Nations Convention on the Rights of Persons with Disabilities. He urged that the disabilities allowance be urgently increased.
FIRST Union organiser and Unions Otago member Sonja Mitchell spoke about the pain, damage, and waste to people's lives caused by 'poverty benefits' and 'poverty-jobs'. She said that the Government's introduction of a benefit last year for people who lost their jobs due to Covid that was almost double the unemployment benefit shows the Government knows its standard benefits are unlivable.
Jen Olsen from Extinction Rebellion spoke about how climate justice and social justice are inter-related. She noted that having decent income and life security allows people to participate in climate action and decision-making.
Members from Dunedin's Myanmar community spoke about Myanmar people's struggle for democracy against a military dictatorship. They acknowledged the many workers in Myanmar who have been on strike and part of the Civil Disobedience Movement against the military coup, and who have been imprisoned and tortured. They asked people of Dunedin to support a Myanmar Solidarity Concert being held in Dunedin on 27 May and the international community to reject the military junta.
Poet Kyra Gillies performed poems from her book Fierce Love Fresh Air, including from her poem Peace which includes a call to 'Nourish our community' and these lines: 'In our 'wellbeing budget' the military spending goes up, from 4.1 to 5.1 billion per year. That's 97 million a week. But when it comes to paying artists, disabled people, nurses, bus drivers, teachers, well all of sudden the crown goes cheap'.
The rally concluded with people singing a song about kotahitanga or solidarity, 'Ngā iwi e'.
 - Sonja Mitchell on behalf of Unions Otago