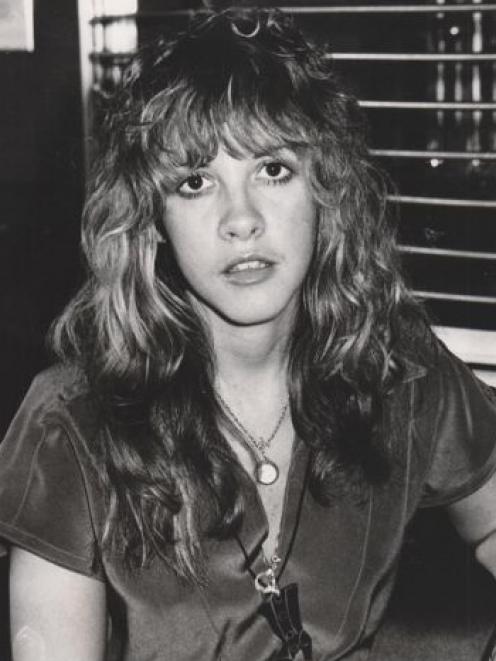 Fleetwood Mac. 
People with terribly young eyes are asking me if I am going to see them in November.
Is saying, with a sigh, that I saw them 36 years ago any kind of an answer?
Probably not.
Certainly not a reason for not going.
You can see people twice.
Three weeks ago, I saw Shayne Carter twice in one night.
You don't stop eating a pavlova halfway through.
It was 36 years and a couple of days ago.
Almost an anniversary.
Wellington.
Athletic Park, an inhumane, cold, windy venue.
But I was side of stage as part of a ludicrous media quango generously provided by the New Zealand promoter Darryl Sambell, a man who believed, quite rightly, the media were more important than God.
Sambell knew a newspaper piece was a free ad, and the marketing tricks he had mastered in Australia managing pop king Johnny Farnham, from where his nickname Sadie came, saw him quickly become New Zealand's most outrageous promoter.
He would later bewilder a very manly New Zealand cricket team dressing-room when managing Martin Crowe.
I was the Dunedin trough-slobberer in this worthless coterie of media men, and I remember wearing heinously high-heeled platform shoes so I might look like an Auckland trough-slobberer, unaware nobody wore platform shoes any more.
Which meant I made the most noise clomping up to order another free drink every 10 minutes.
Everything's free, just give them your room number, said Sambell. Nobody remembered their room number.
We just called out anything.
It was like Housie Night.
We were there five days.
Very occasionally it was work.
Being a man who liked swirling hippie dresses, an aesthete you might say, I naturally wanted to have an intense academic discussion with Stevie Nicks.
Sambell asked if an hour would be enough.
More or less, I replied, perspiring profusely.
We had a good chat in a one-sided sort of way, me gabbling, her talking wispily of goblins and witches at the bottom of the garden.
Silver Springs, their second-best song ever, was just a lost B-side then, not the hit it belatedly became in the '90s.
But being a music geek I had found this song already, and lavished praise thereon, a rare moment for Nicks to leave the goblins and witches and talk tearfully how this song had been removed from Rumours.
I got an autograph and message for our daughter's friend Jojo back in Dunedin, an embarrassed demeaning thing to ask for but I had promised.
Years later, Jojo told me she assumed I had just written the message myself.
She never brandished it in front of her 12-year-old friends.
After all, nobody would ever get to talk to Stevie Nicks.
The books that came out subsequently confirmed this was a terrible period for the band.
Christine and John McVie had split, and McVie was not in good shape.
One morning on the way to breakfast I walked into a lift and there he was on the floor, half asleep, half something else.
His wife was warmly happy - she was the only member to sit with us for hours through the night playing and singing in the lounge bar, the quintessential earth mother - but having just taken up with the doomed Beach Boy Dennis Wilson, her happiness was soon to end.
The stormy Buckingham-Nicks relationship had finally ended, and Mick Fleetwood had pounced on that vacant chair.
At the concert, Buckingham didn't sing Go Your Own Way, he sneered it through taunting teeth, and Nicks ran off crying.
Usually, I watched rock concerts from J16 or M34, it was weird watching this one side-stage, a metre from a sobbing superstar refusing to go back on.
Each band member had their own stretch limo.
It was both ludicrous and sad watching these long sleek cars pull slowly out of the half-lit underground car park with just one member of Fleetwood Mac sitting mournfully in the back of each one.
Their faces seemed so small. The things you see when you don't have a camera.
But they played great.
• Roy Colbert is a Dunedin writer.