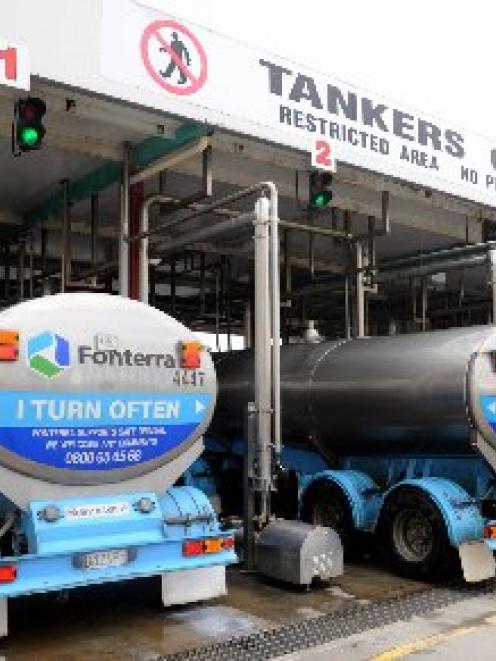 Calls to ban coal and lignite mining are irresponsible, and dodge the real issues concerning climate change, writes Chris Baker.
The past 12 months could be called the year of silly advice on climate change.
Apparently, if we ban coal and lignite mining, New Zealand will be able to help stop global warming.
This was Lucy Lawless and Robyn Malcolm's message to the West Coast in April 2010.
In May, Greenpeace protested in Timaru against Fonterra using coal to manufacture milk powder.
Last November, Greenpeace did the same at Solid Energy's lignite mine near Gore.
A year later, Jeanette Fitzsimons confesses she is wrong about energy efficiency being a solution to climate change, and calls for a ban on coal mining.
Until China and India (and many other developing and developed countries) find a way of producing electricity for less than 6c a kilowatt-hour using something other than coal, those countries will burn coal.
There's around one trillion tonnes of easy-access coal available. All the negotiations in the world will not alter this fact.
All the greenhouse gas (GHG) reduction efforts to date have not altered the fact that large quantities of carbon dioxide from burning fossil fuels, including coal, enter the atmosphere and will continue to enter the atmosphere over the next decades.
The Minister Responsible for International Climate Change Negotiations, Tim Groser, is to travel shortly to Washington DC to chair a meeting of the world's 17 biggest greenhouse gas emitters, including India and China, to see what can be done by each of these countries to reduce emissions.
That New Zealand has been asked to play a leading role in discussions to do with 80% of the world's emissions is hugely significant.
We are responsible for 0.2% of the world's emissions.
The Major Economies Forum is where the real debate is, and New Zealand is centre stage.
This is potentially the biggest contribution our country will ever make to combating climate change, and Mr Groser and his team deserve to be congratulated.
Stopping coal mining in New Zealand will not affect the world's climate one iota, and would only damage our economy.
It's the ostrich sticking its head in the sand.
Coal and gas are the chief energy sources used to convert milk into milk powder, the basis of a multibillion-dollar export industry.
Fonterra's Edendale processing plant alone employs 400 staff and produces 230,000 tonnes of product a year.
If there were an alternative source of energy that was as cheap and as reliable, it would be used.
A Solid Energy and Ravensdown project to convert lignite into fertiliser could be worth $377 million a year to the Otago and Southland economies, and create up to 2344 jobs.
Steel cannot be made without coal.
New Zealand coal and iron sands are used to make steel at Glenbrook, which employs 1200 staff and injects $80 million a year into the South Auckland economy.
Recently, one company approached New Zealand to order 30 million tonnes of coal a year for making steel.
We produced around 5 million tonnes last year, not all of which is coking coal.
Obviously, we cannot fill the order.
Even if our ports could handle the freight, which they cannot, we could not mine the stuff at anywhere near that pace for geological and logistical reasons.
That's one company of the hundreds or thousands of companies that make steel around the world.
Coal and gas also make a vital contribution to our electricity supply.
We are blessed with renewable sources of energy, wind and rain, and we have considerable untapped potential for additional geothermal.
But we still need Huntly, and EP3, and will do so in the medium term.
Even as the contribution of geothermal and wind increases over time, New Zealand's total demand for electricity will rise to match, as the Government's economic goals are met and our economy and population continue to grow.
The world needs to adopt a very different view of coal.
Coal is a transition fuel. It will be used. It will eventually be replaced by something else.
Faced with these realities, the policy imperatives for New Zealand and the world are crystal clear.
The world needs to and is developing technologies that allow cleaner burning of coal.
China is playing a leading role in this area.
Carbon capture and storage is a vital component in the global response to reducing GHG emissions.
Through the NZCCS Partnership, the New Zealand Government and industry are assessing these technologies and are working with Australia to advance them.
In this way New Zealand's lignite resources can be developed in an environmentally responsible way.
It is of massive importance to our economy that we do this.
There are around 9 billion tonnes of lignite that can be recovered, with an energy content of around 40 Maui gas fields.
At likely future prices, this resource could be worth $3 trillion. That's just lignite.
If the necessary technologies for recovering methane hydrates can be developed, New Zealand's continental shelves may harbour some $12 trillion worth of energy, at future prices.
Alternative technologies to coal (and petroleum) will be and are being developed.
It is inevitable and necessary as these resources become scarcer and globally our understanding and management of the environment improves.
Certainly, there is room for pursuing energy efficiency, for developing strategies and technologies for reducing GHG emissions, planting forests, pursuing renewable energy schemes and much more besides.
By all means let's change our light bulbs and stick insulation into our homes. But let's also be realistic.
Leaving our coal in the ground will simply lead to that demand being met elsewhere, often with greater environmental impacts.
As unpalatable as the technology solution is to Greenpeace and its supporters, it is the only solution.
Chris Baker is chief executive officer of Straterra, a body representing the New Zealand resource sector.