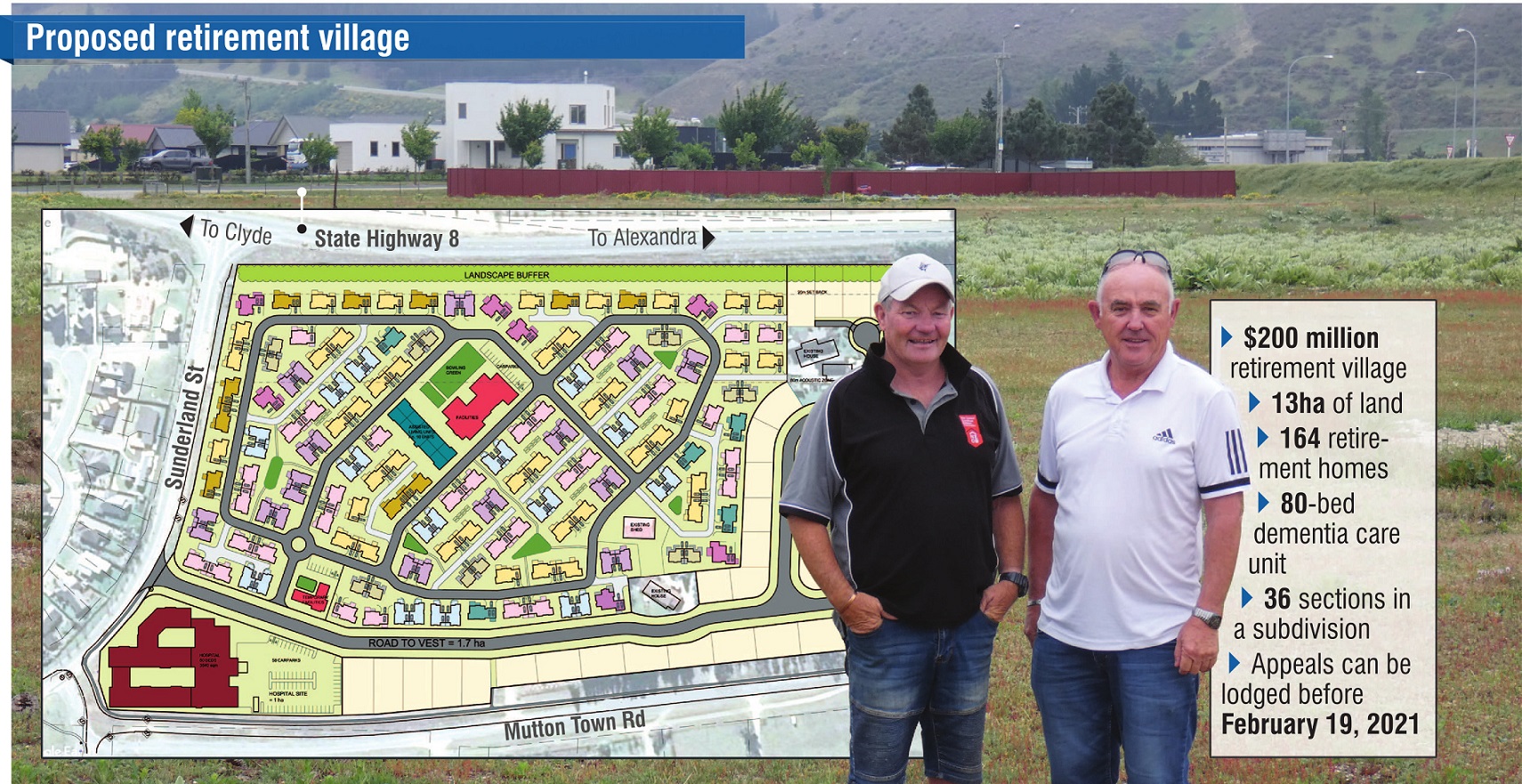 Plans for a $200 million retirement village in Clyde have been approved by the Central Otago District Council.
The move will allow for a plan change from rural to residential for about 13ha of land on the corner of State Highway8 and Sunderland St.
This will allow developers to progress with their plans to build about 164 retirement homes, an 80-bed dementia care unit and a subdivision of 36 sections.
The council is allowing modifications to plan change 15 with some conditions, including how residential lots access State Highway8 to ensure NZ Transport Agency safety requirements are met.
These have centred on concerns around access to the site and signage and how those would work with the internal road layout of the site, a plan for which has not been submitted.
Paterson Pitts Group senior planner Peter Dymock said it was good news, and developers including Patrick Houlahan and Mark Laing were extremely pleased.
Mr Houlahan said it looked promising for the retirement village.
He was confident they would be able to make adjustments to allow for the road layout that was requested.
"We are quite happy that we can design something within the parameters of what they have given us."
Next steps included working on the resource consent and discussions with anticipated joint venture partners HPA Group, he said.
"We are very pleased and we are just looking forward to getting on with the job."
Vincent Community Board deputy chairman and local resident Russell Garbutt said he was "absolutely stoked" by the decision.
"I can't wait to see the first stone turned."
It had gone "well beyond anecdotal evidence" that many people had to shift out of the Clyde and Alexandra basin simply because housing was not available for them, he said.
"This, by all accounts, will provide a much-needed residential option for those people."
Central Otago Mayor Tim Cadogan said many people had been talking about the need for a retirement village in the Vincent area for a long time.
"It's firmly been my hope and belief that the private sector would come forward and get involved."
Time would tell if this would meet the needs of the community or if there was a need for further developments, he said.
The location in Clyde, near a golf course and hospital, was a good one.
"What more could you want in your later years?" Mr Cadogan said.
Fifteen submissions on the proposal were made to the council, 12 in favour of it and three opposed.
People who submitted on the plan change will have until February 19 to lodge an appeal.