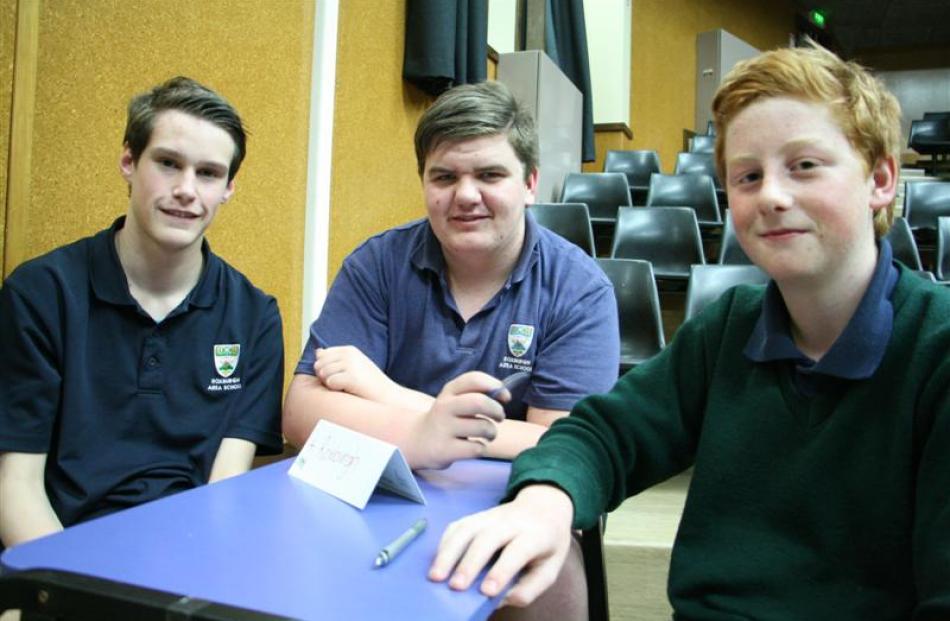 Was Roald Dahl a well-known New Zealander who climbed a large mountain in the Himalayas?
Not really, but that was one of the answers given for a question at last night's Otago Daily Times Extra! current events quiz held in Cromwell.
More than 70 school pupils in 24 teams from Dunstan High School, Cromwell College Maniototo and Roxburgh area schools took part in the quiz at Cromwell College's auditorium.
Dunstan High School gained all three top places - Dunstan 6 first, Dunstan 9 second, and Dunstan 5 third.
Winning team members Hannah Heyward, Gabrielle Tohill (both 15) and Ben Mullally (14) were excited to get the top place, but they also had an advantage over many of the teams - both Hannah and Ben had been part of a team that won last year's current affairs quiz.
''We probably had a wee bit more confidence since we won last year,'' Hannah said.
And not as much pressure, Ben said.
The team won the quiz with 96 points out of 100.
Newcomer Gabrielle said it was ''fabulous'' to be part of the defending champion team.
They also saw the value of current affairs to their lives.
''I think it's pretty important. If you live in Alex[andra], you don't know what's going on in the world around you,'' Hannah said.
''I like to keep up with it in general. I am quite keen on what's happening in the world,'' Gabrielle said.
All three pupils had prepared for the quiz by doing daily quizzes and homework, and were rewarded for their efforts with $30 vouchers, pens, medals and a plaque.
School pupils were tested on flags, well-known faces, geography and general knowledge, as well as their ability to scour the newspaper to find the right answers.
Quiz co-ordinator and ODT Extra! editor Ivan Behrnes said overall this week's quizzes went really well.
Wednesday night's quizzes had set a record, with years 5-6 winning 99 points out of 100, and last night's score was also high, which ''rated well with all the other regional quizzes''.
It raised an awareness of current events and what was happening in the area, the country, and overseas, and helped children form an opinion on events and issues, he said.
About 1400 children take part in the quizzes, held in Timaru, Christchurch, Dunedin and Cromwell.