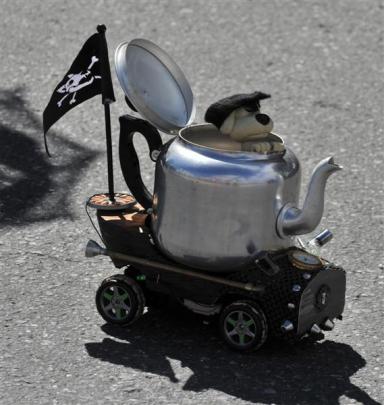 A man involved in the Alexandra Blossom Festival since its inception was honoured at Pioneer Park on Saturday for his work and contribution to the event.
Jan Belt (87), of Alexandra, was surprised with a framed photograph of one of the floats he helped to create in 1998 - the Titanic.
It was presented to him in front of thousands by Central Otago Mayor Tony Lepper.
Mr Lepper told the crowd at the Saturday in the Park event Mr Belt was an active member of the Alexandra Lions Club and was a ''lion of a man'' with a focus on his community.
He has held most of the executive positions on the club over the years, and many of the floats he helped build had won People's Choice awards.
Mr Belt was a champion in the community, Mr Lepper said.
Mr Belt said it was ''quite a surprise'' to be honoured on ''quite a big day''.
A butcher by trade, Mr Belt said he had been building floats from day one, although sometimes he had a little help.
He built the Titanic float, but had a lot of support ''from the ladies'', most notably his wife, Mary Belt (81).
Mr Belt stayed involved because he liked the atmosphere and enthusiasm of the people, as well as just ''being a part'' of it.
''If a town is good enough to live in, it's good enough to work for,'' he said.
He was not able to be involved as much in the 2015 event as he is undergoing chemotherapy for cancer diagnosed this year.
However, he vowed to be back for next year's event.
Event organiser Martin McPherson said he had chose the photo of the Titanic float on advice from Mr Belt's wife - it was the one he was most proud of, he said.
Mr Belt is a life member of the blossom festival committee.
The event has been running for 59 years, and will celebrate its 60th next year.