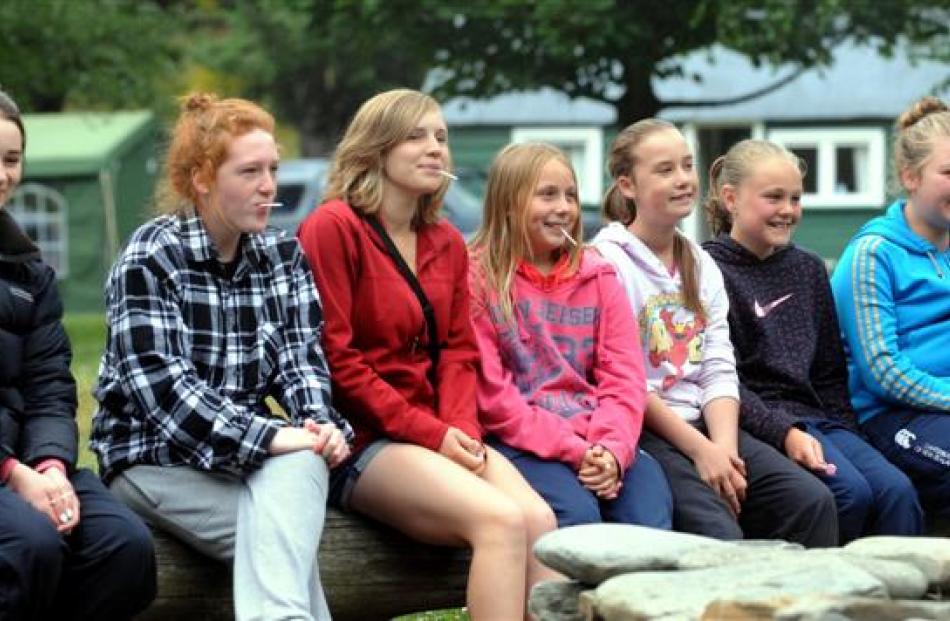 The pastor, sitting at the table inside the living quarters of the Danseys Pass Holiday Park, confesses at times to being close to sinning.
"I have to fight off idolatry because I love this place so much," he said.
"I have to pinch myself - I get to live here?"
As false idols go, though, this one is quite something, and American owners of the park, Scott and Margie Brown, have been tending to its altar since 2008.
The "high-school sweethearts", who have seven children between the ages of 13 and 21, holidayed in the South Island in February and March of 2007, walking the Milford Track and spending 12 days on motorbikes.
When they returned home to Maryland, the pastor and stay-at-home mother resolved to move to New Zealand with their children to run a bed-and-breakfast establishment.
They quickly found that was not to their liking.
"I was in minor depression because I really wanted to move here," Mr Brown said.
Then a friend directed them to Danseys Pass Holiday Park, nestled under the hills beside the Maerewhenua River, opened by Bob and Ina Hutton in 1955.
A century earlier, in 1855-56, a group of four men including North Otago run-holder William Heywood Dansey took an expedition into the mountains inland from Oamaru, from the Waitaki Valley to Ranfurly and Central Otago.
Alluvial gold can still be found in the Maerewhenua River, which wraps around the campsite; its pools getting deeper as it curves towards the entrance on Danseys Pass Rd.
The Browns took over management of the park in September 2008, but did not take ownership from the park's third and previous owner, Neil Thorpe, until 2010 due to "unexpected immigration problems".
Mrs Brown said the park's natural pools had been packed of late, with the variable depths allowing for safe swimming for all ages.
The couple said they had been informed of the park's various virtues by faithful campers upon their arrival.
"Many of the people have been coming here for decades," Mr Brown said.
"We've had people coming up to us telling us not to change a thing, and asking us not to advertise."
Running the park was an informative experience, he said.
"They teach us how to camp - we're Americans. They come set up and enjoy each other for weeks, which is outstanding.
"It's a different paradigm - we feel guilty if we take more than five days."
Mrs Brown said she felt no such guilt, but added such opportunities to relax were a rarity back in the United States.
"You work a long time in the States to get two weeks' annual holiday - you don't get it automatically," she said.
The pair said running the camp was like having a large extended family, and attributed a full park with many new families to word-of-mouth.
The move from the US was "value-driven" and Mr Brown said the pair were not at the park to make a lot of money - because they would not.
"The pace of life here is so different," Mrs Brown said.
"It's not unusual for me to be walking in [Oamaru] and see four or five people I know, and they all say hello."
Virginia Terpstra, of Auckland, who had stayed at the park four of the previous five years, said it was one of her favourite places to visit while in the South Island.
"It's just a really fun, family-friendly, safe place," she said.
"We can leave the kids for a couple of hours and know they will be fine.
"It's great to see them out playing and doing things instead of watching TV or playing video games."
Her, nephew Hamish Lamb (11), of Timaru, had an expert understanding of the various pools a stone's throw away from the park's centre.
"There's small trout in the small swimming pool and eels in the big one sometimes," he said.
He and brother Alex (14) had been enjoying the large rope swing over the river and had jumped into the deep pool from a platform formed in the surrounding rock.
Their sister Grace (10) had ventured on to the rope swing after being too afraid last year, but had not yet progressed to the point where the jump into the big pool was a viable option.
Tony and Miriam Morton, of Waimate, were impressed after travelling to the park for the first time with their four children and retired guide dog Zeus, who had been spending his days bathing in the river's shallow pools.
"We can't complain, it has fantastic swimming holes and is both dog-friendly and child-friendly," Mr Morton said.
"I've never been to a prettier camp ground."
He had not planned to fish this week but on reflection, wished he had been able to get in some successful angling, having seen the quarry.
"I've been watching the fish in the pool, there's a really big one that comes out at night at about 10pm."
Mrs Morton said it was nice to see the children skimming stones and said a lot of work had obviously been done to beautify the site.
The surrounding area includes many geographical features, including slate limestone boulders, Rattling Rocks, Clay Cliffs and Elephant Rocks - which featured in The Chronicles of Narnia movies.
The area is also rich in fossils, with whale skulls, dolphin vertebrae, sea urchins and sharks' teeth all found on the site.
---
All about Danseys
• Danseys Pass Holiday Park, 15km southwest of Duntroon on Danseys Pass Rd.
• Nestled beside the Maerewhenua River.
• 2-bedroom cabins, 4-bedroom chalets, bunk-house, 30 power camping sites, tent sites.
• Amenities in the camp and surrounds: Fly fishing for trout, Elephant Rocks, Maori Rock Art, rock climbing, flying fox, kitchen and shower facilities, mountain biking, horse trekking, swimming pools, tramping in native bush, fossils, gold mining for alluvial gold, short drive to Waitaki River, golf.
• Attracts fishermen from countries as far-flung as Japan and France.
---