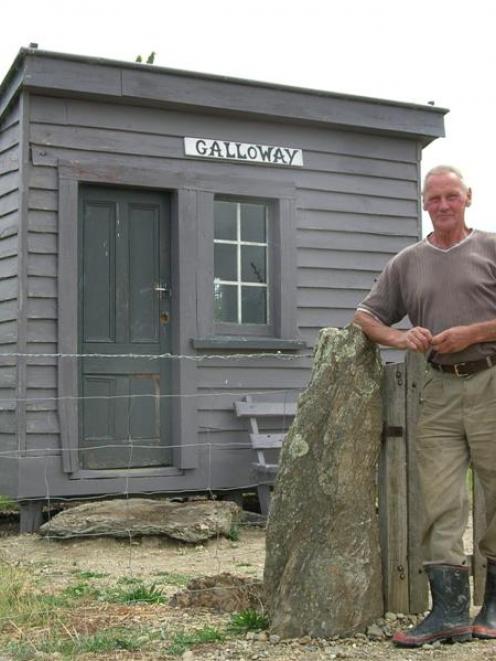 Enhancement of a historic amenity along the Otago Central Rail Trail is continuing at Galloway, making trail users and locals alike stop and take notice.
Galloway resident and retired orchardist Aad van Leeuwen has slowly repaired and upgraded the women's waiting room of the former Galloway Railway Station over the past seven years.
It now serves as a stopping point for rail trailers between Alexandra and Omakau.
Work to develop the site would continue into the future so those cycling the trail, as well as locals, could appreciate the area's history, Mr van Leeuwen said.
Pieces of petrified wood found at Galloway by Mr van Leeuwen are on display, as well as information panels about the area and its native flora and fauna.
A small rock garden featuring lichen-covered schist boulders from an old Galloway quarry, New Zealand native plants, Otago skinks and original stone fence markers have also been added.
Mr van Leeuwen hoped to source more schist fence markers from farms in the area to place alongside the women's waiting room, as well as establish more plants on surrounding land.
"The old railway station and yard was quite well used.
Some said the area didn't have any real history, but it's amazing how many people stop at the old building to take photographs," he said.
Originally from the Netherlands, Mr van Leeuwen and his wife, Truus, moved to Galloway in 1971.
The couple used to flag down passing trains on the old railway line outside their house for rides into town or to load their fruit for transportation throughout the area.
"It was comical for us to stand at the back door of our house and be able to flag down trains," Mr van Leeuwen said.
When the line and all associated amenities, buildings,and infrastructure was taken away, a fellow Galloway resident bought what had been the women's waiting room and toilet to use as a farm implement shed.
Not long after, Mr van Leeuwen was approached by the farmer about whether anyone would be interested in buying the redundant shed, and an idea to resurrect Galloway's history was born.
The Department of Conservation became involved, and a small grant was allocated to the project by the Central Lakes Trust.
Mr van Leeuwen painted the building, repaired its roof and made sure the word Galloway was front and centre for all to see.
"Before we put Galloway on the building, people didn't stop because they thought it was just an old shed. Now they know it's part of the rail trail," he said.