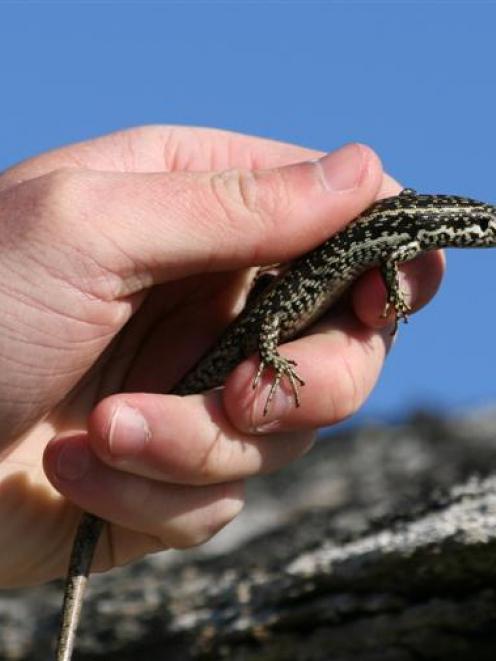 Some grand and Otago skinks could be relocated to an island in Lake Wanaka as part of efforts to protect the declining numbers of the western populations of the skinks.
The skinks live in two separate areas known as the eastern and western populations and are genetically distinct.
The eastern population is protected by a predator-proof fence at Macraes and is actively managed outside of it. As a result, the population is growing.
However, numbers of the unprotected western population were declining. While total figures of the skinks were unknown, it was estimated there were 10 eastern skinks to one western skink.
The grand and Otago Skink Recovery Group spent its annual meeting in Dunedin this week concentrating on investigating ways to change that.
Group spokesman Grant Norbury said there were particular challenges with the western population, as it was based in rocky, steep, inaccessible terrain, which meant the two tried and tested management options of a predator-proof fence or large-scale predator control were not practical.
As insurance, it had been decided to boost the captive population of western grand and Otago skinks, he said. The aim was to have a minimum of 10 breeding pairs for each of the four genetic groups in captivity.
"Having adequate numbers in captivity safeguards the species from extinction."
But the group also hoped to boost numbers in the wild, and to move some to other sites such as Mou Tapu in Lake Wanaka.
"There is potential there but we are not sure how good it'll be."
So they were looking at relocating surplus eastern captive grand or Otago skinks of a single sex to the island and monitoring their survival closely to see if it was suitable, he said.
If the trial was successful, those skinks would need to be removed or left until they died before a western skink could be moved there.
"We need to do the research first."
Other possibilities included moving skinks to the Central Otago Ecological Trust's enclosure.