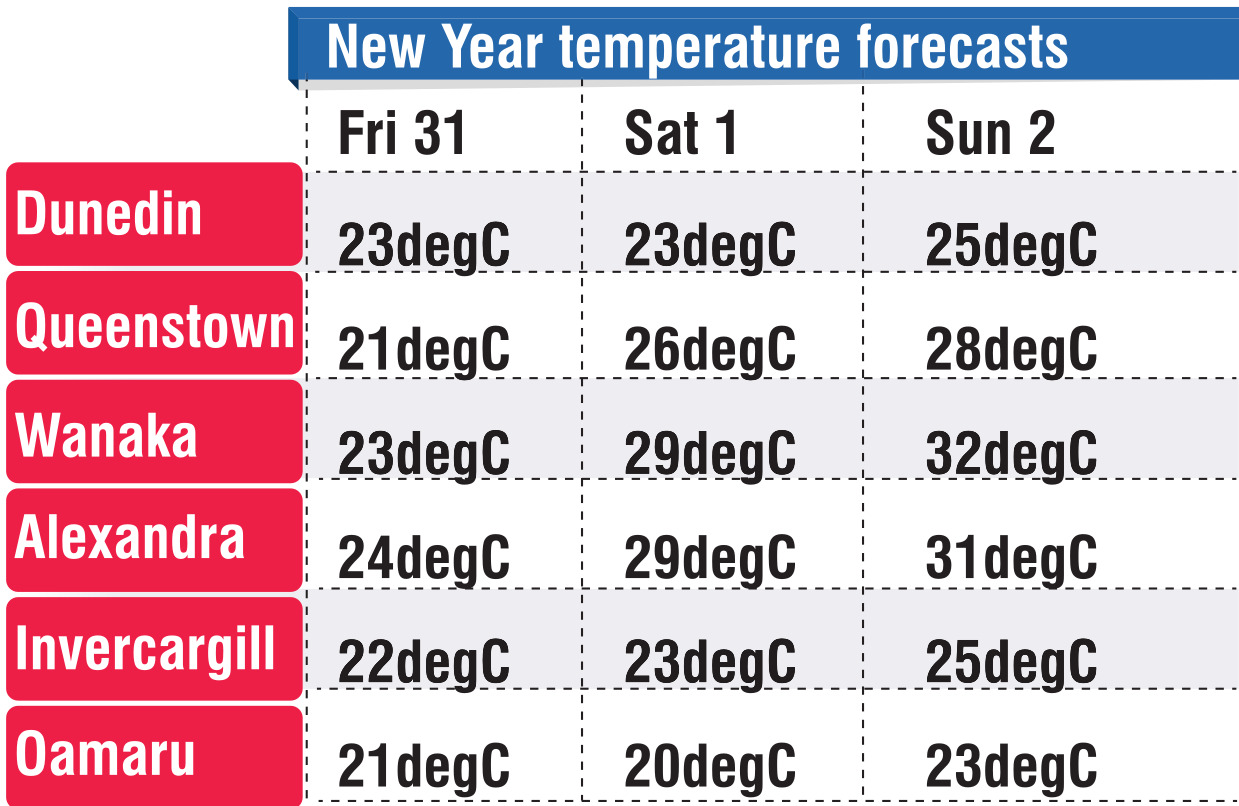 Blue skies and bumper temperatures are on the cards for Central Otago in the first few days of 2022 as the region welcomes revellers keen to see the back of 2021.
It seems the new year will get off to a good start with hot, fine weather on Saturday for New Year's Day to be followed by even hotter temperatures the following day.
MetService forecaster Tuporo Marsters said Central Otago could expect "a scorcher for Sunday".
The mercury was forecast to break the 30degC barrier in parts of Central Otago on January 2, headed by Wanaka where it is predicted to hit 32degC.
That follows 29degC in the town on New Year's Day, and 30degC on January 3.
Alexandra can expect similar temperatures as 29degC is forecast for January 1, 31degC for January 2 and 30degC for January 3.
The temperature would not reach the same heights in Queenstown, although sunny weather is still expected over the first two days of the year and a high of 28degC on January 2.
The tail end of 2021 will bring milder weather to most parts of the region.
A weak front is expected to pass over Otago and Southland tomorrow bringing showers to most places, before drying up for New Year's Eve.
On December 31, cloudy but dry weather is forecast in Queenstown, Wanaka and Alexandra and temperatures that hover in the low to mid 20degC range.
Revellers expecting to party into the night might like to bring a jumper.
Mr Marsters said overnight temperatures would drop to between 11degC and 13degC.
"It's the next day ... New Year's Day, where everybody wakes up and goes 'Whoa, this is looking like a beautiful day' and then we're looking at temperature starting to climb to 29 degrees."
Those seeing in the new year in Dunedin can expect showers in the city to continue intermittently until December 30 before a dry day arrives on New Year's Eve with a high temperature of 23degC.
Fine, hot weather is expected for the weekend, with a high of 23degC on January 1 and 25degC on January 2.
Invercargill residents can expect a damp end to 2021 as rain showers are forecast to persist daily until January 1.
They join the sunny weather party on January 2, expecting a clear day and a high temperature of 25degC.
Oamaru temperatures will be pleasant if not spectacular in the new year.
January 1 will have sunny skies and 20degC, improving to 23degC with more clear skies the following day.