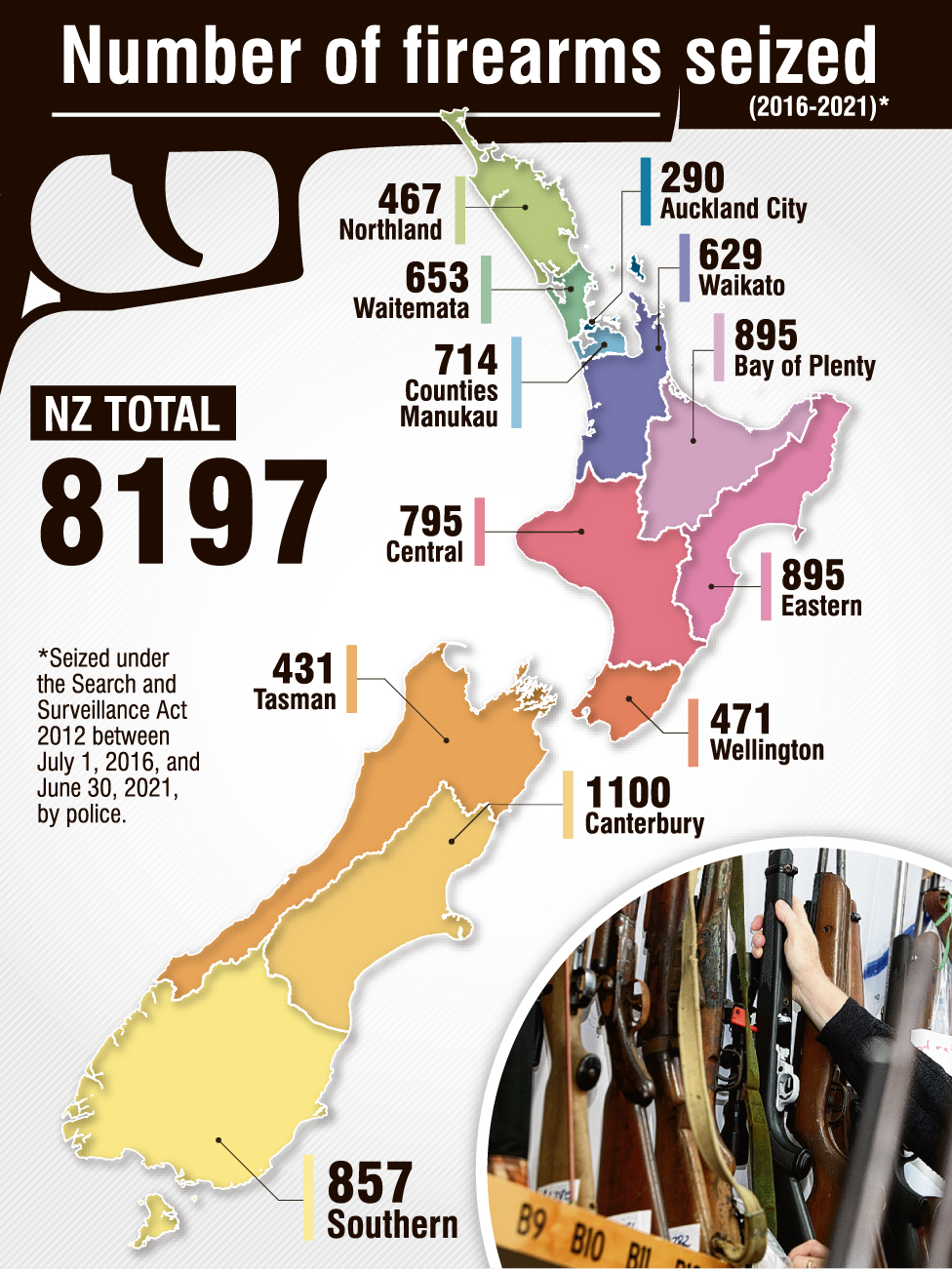 The South has one of the highest rates of illegal-gun seizures in the country, and an increasing gang presence is being blamed.
In the past five years, Southern police have seized 857 illegal guns, information released to the Otago Daily Times shows.
It is the third highest total in the country, behind only Canterbury on 1100, and Bay of Plenty and Eastern, which both seized 895 guns.
Over the same period, Southern police filed 769 charges relating to illegal firearms.
The new figures come as police raise increasing concerns about organised crime and a proliferation of gun violence.
Police Association region seven director Grant Gerken, of Invercargill, said Southern, like many districts, was experiencing an increased gang presence.
With that growth came a corresponding upsurge in the presence of illegal firearms, he said.
"Disturbingly, gangs are now more prepared than ever to use these firearms against police, their rivals, and the public.
"At one time it was a perceived threat amongst our membership, now it's the reality, and alarmingly reflective of the increasingly dangerous environment police operate in."
He believed Operation Tauwhiro, a national operation targeting gun violence, had contributed to the high number of guns seized.
"Deployment of specialist groups such as AOS in Southland also increased, with intermittent monthly spikes in demand linked to gang activities, such as armed standovers, and rival tensions.
"Disturbingly but not surprisingly, illegal firearms were located in many of these incidents."
It was positive that so many guns were being taken out of the hands of criminals, he said.
However, it was bittersweet.
"On one hand it demonstrates the benefits of our sustained focus on the firearms-related offending of Southern's criminal gangs, and on the other it's a stark reminder of the dangers that their proliferation presents to Southern police and our communities."
Southern district operations manager Inspector Matt Scoles said seizures in Southern were in line with other provincial districts, particularly rural areas where firearms ownership was higher.
"As part of Operation Tauwhiro, police in Southern district are working to prevent firearms getting in the hands of criminals, which is good news for the safety of our community."
Auckland City seized the fewest guns over the past five years, 290.