Alfie and Win Gaze may have set a record - but they do not know for sure. Today, at Totara Lodge, the Oamaru couple will celebrate their 75th wedding anniversary.
That could make them New Zealand's longest-married couple, just a year short of what is believed to have been New Zealand's longest marriage at 76 years.
But they are not making a fuss about that and no big celebration is planned.
"We might have a cake," Mrs Gaze (97) said, adding she was too old to organise a special celebration.
Asked the usual question - what makes a successful marriage - Mrs Gaze shrugged, then said: "Be kind to each other".
Mr Gaze (99) agreed with their daughter, Jean Brown, that "Doing what your wife says" helped.
"That's what he thinks," Mrs Gaze retorted.
This will be their second diamond wedding anniversary, according to the traditional list - the first is at 60 years.
Under the contemporary list, their 75th would be diamond-gold.
Mr and Mrs Gaze grew up in England and met because she was a friend of his sister.
After three years of engagement, they were married on July 28, 1934, in the Holy Trinity Church, Wealdstone, Middlesex.
They went for their honeymoon to Devon, where they spent their time swimming and walking.
In 1940, Mr Gaze joined the Honorable Artillery Company, London, and served in Egypt, where he was captured at El Alamein.
He spent five years in a German prisoner of war camp, then a year in hospital when he returned to England at the end of the war.
While a prisoner, Mr Gaze befriended a Gore soldier who recommended New Zealand.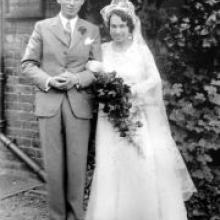 The family immigrated in 1951, settling in Gore for eight years before moving to Oamaru where Mr Gaze was a builder.
The couple then ran a poultry farm, before retiring to Oamaru.
When he retired aged 65, Mr Gaze designed and built a two-storey house in Lark St.
While tiling the roof, helped by Mrs Gaze, he fell and broke his back. After recovering, he went back to building the house, which took about a year to complete.
They lived there until about three years ago, then moved to Totara Lodge.
The family retained the house until last year, when it was sold. The couple had four children. They have 11 grandchildren and 22 great-grandchildren.
---
Long marriages around the world
Other long marriages of note:
- 86 years, 4 months Philipose and Sosamma Thomas, India, married 1919.
- 81 years, 260 days Thomas and Elizabeth Morgan, South Wales, married 1710.
- 85 years Liu Yung-Yang and Yang Wan, Taiwan, married 1917.
- 84 years Herbert and Zelmyra Fisher, United States, married 1909.
- 81 years Frank and Anita Milford, England, married 1928
- 76 years Mr and Mrs D. S. Prince, Wanganui, married 1883.
---