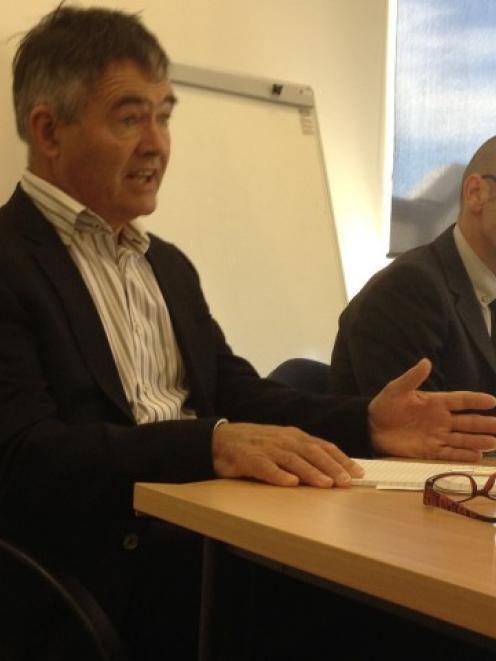 Communities south of Timaru could face a bill of more than $1.8 billion under proposed changes to rules governing earthquake-prone buildings.
Ten of the 11 southern South Island councils went in together on a desk-top analysis of the likely cost of the proposals to improve the national earthquake-prone building system as they stand in a consultation document currently open for submissions.
Dunedin Mayor Dave Cull, speaking on behalf of the southern councils group, released the results of the study this morning.
He said the study covered off the worst-case scenario under the proposed policy.
The proposal is that councils would be responsible for initial engineering assessments of buildings, which would have to be done within five years, and the owners of buildings found to be earthquake-prone would have another 10 years to strengthen or demolish them.
The councils believe there may be as many as 22,600 rural and urban buildings south of Timaru that require assessment, and more than 7440 that require demolition or strengthening.
The $1.8 billion cost was mainly for building owners to strengthen buildings, but included a $30 million cost for councils to undertake the seismic capacity assessments, which would need to be recovered through rates or user charges.
Mr Cull said councils accepted work needed to be done on this issue in response to what happened in Christchurch, but any chances needed to be flexible, risk-based, practical and affordable for building owners and communities.
Rural provincial areas would be seriously disadvantaged by the proposed changes to earthquake legislation, he said.
"The accountabilities, risk allocation and timeframes put forward by the Crown would place a disproportionate burden on rural and provincial New Zealand. This is one of the biggest issues to face councils, building owners and the wider community in a generation, and, as such, it is important we work together to ensure any changes are right first time."
The councils would make a submission based on the study and their concerns in the hope the information would help better inform the Government in its decision-making, particularly around the impact the policy could have on rural provincial areas.