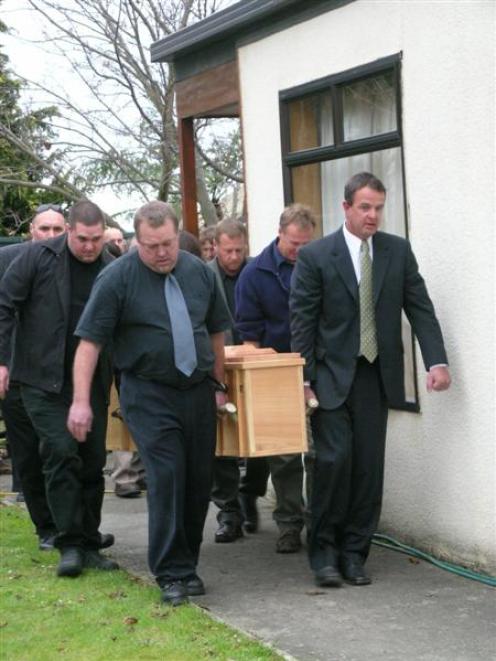 West Coast publican and former Wanaka man David White (42) was remembered at his funeral in Wanaka yesterday as a big man with an even bigger heart and a "true friend and family man".
The former Central Otago cricketer, Upper Clutha rugby player and anti-1080 poisoning campaigner was described in tributes as loving, reliable and loyal, a keen adventurer, passionate cook, and a mentor.
Mr White died at his hotel in Little Wanganui, 22km south of Karamea, on July 3 after being struck on the head by a patron.
A 38-year-old woman from Karamea has been charged with manslaughter.
Her name is suppressed and her next appearance will be in the Christchurch District Court on July 22.
Mr White was born in Cromwell on July 24, 1966, and moved with his family to Timaru about four years later.
He was educated at Highfield School then Temuka High School.
His family moved to Wanaka in 1979 and he finished his schooling at Wanaka Area College.
His first job was at Wanaka Placemakers, where he became the bulk store manager, and after about five years he moved to Australia to go shearing, then returned to Luggate to work at the sawmill and in a fencing crew.
His passion for food and hunting was legendary - at one stage he sold wild food from the lawn in front of the Wanaka Hotel.
He moved to Christchurch in 1999 and bought land on the West Coast with partner Kirsty Barkman.
The couple moved to the West Coast where he worked as the Buller district cricket development officer.
In 2004, they took over the Little Wanganui Hotel.
Mr White shared his passion for the outdoors and hunting with his father, older brothers and many friends.
Mr White lived the outdoor life many others could only dream about and viewed his surroundings through the eyes of an artist and a hunter, brother Peter White said.
His favourite places included the Wilkin, Cascade and Pike valleys.
Tributes were also read by friends Greg King and Ross Herrick, father Jim White, nephew Gabriel White and several other family friends.
Mr White is survived by his partner, Kirsty Barkman, their daughter, Jessie May (4), his father, Jim, and brothers, Ritchie and Peter.