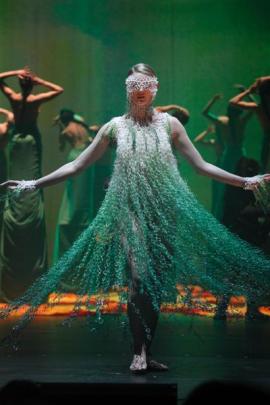 Andi Regan's passion for spikey sunflower clocks and spiny sea creatures led to an unexpected obsession with plastic cable ties.
Hundreds of thousands of cable ties later, two of her plastic creations will be exhibited at an international wearable arts show at the 40th Hong Kong Festival of Arts, which runs from this Sunday to February 5.
The 70-minute stage show exhibits 100 "best of the best" creations selected from New Zealand's World of Wearable Arts (WOW) shows.
Regan's pieces, Neptune's Necklace and Pohutakawa Princess, were made for last year's WOW production in Wellington.
The 38-year-old Wanaka artist bought her first packet of cable ties from a hardware store about two years ago after she decided to make something spikey herself. Cable ties now rule her life and she is constantly doing things with them, even while watching television.
"I've not got bored with them yet. It's like knitting. I can do it on the couch without looking. It's really relaxing. And they are really handy to have around. My husband is always asking for them," Ms Regan said yesterday.
Ms Regan, from England, and her Irish builder husband, Paddy Fleming, have lived in New Zealand for eight years - four of them in Queenstown and four in Wanaka.
Ms Regan is a member of the Cromwell-based artists' collective Hullabaloo and won the Central Otago Art Awards last year with a blossom-inspired cable-tie creation.
"[Joining Hullabaloo] is what pushed me with my art work. I have got to have new things in there every two months ... That collective has been great for me. I just love being in there," she said.
Ms Regan has a bachelor of arts (honours) degree in multimedia and textile design from Loughborough University in the United Kingdom.
She hand-dyes the plastic cable ties in graduating ranges of single colours. Each creation takes a minimum of 1000 ties.
She takes creative inspiration from nature, and particularly her love of the ocean and New Zealand bush.
Ms Regan is not going to Hong Kong to see the show, which is expected to draw an audience of 16,000 over eight shows, because she will be in Ireland, but feels very lucky that both of her works were selected by the organisers.
Each piece took up to five months and a minimum of 20,000 cable ties to create so Ms Regan is entering only the "bizarre bra" section of this year's WOW awards and will enter a bigger piece in a future show.
"I would love to win one. It is nerve-racking at the show. I was just a mess of worry. But on stage, they just come to life," Ms Regan said.
Ms Regan does not confine herself to cable-tie creations and is exploring media such as No8 wire, car-tyre inner tubes, hot-water bottles and plastic bags.
She exhibits at Hullabaloo in Old Cromwell Town, the Poi Room in Auckland and on the Clever Bastards website.
The annual Hong Kong Arts Festival has been running 40 years and is one of Asia's premier events, presenting over 200 performances to an audience of 150,000.
Over 50 people will be working on WOW's shows in Hong Kong.
Managing director Gabrielle Harvey said in a media release the show aimed to present a different side of New Zealand people from the way the Hong Kong and Chinese people traditionally might think of us.
"For example, through our South Pacific section we can show an element of New Zealand's traditional culture in a more contemporary way. Much of the audience is unlikely to have ever seen WOW before, so they won't know what has hit them," Ms Harvey said.