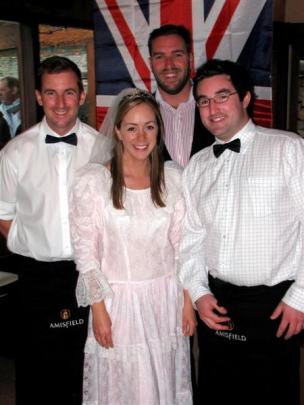 Queenstown residents and visitors watched the pomp and ceremony of the Royal Wedding with rapt attention and cheers, on Friday night.
A comfortably full Pig and Whistle Pub initially saw royalists compete with sports fans over which channel to watch, the plasma screens being flipped between the Blues beating the Highlanders 15-10, the New Zealand Breakers trouncing the Cairns Taipans 71-53, and the live feed from London.
But to frenzied chants of "Wedding! Wedding!" led by a group of visiting Australian ladies of a certain age, all eyes finally feasted for good on the pageantry of the Royal nuptials.
Pig and Whistle duty manager Nicola Cleere said a past staff member, now living in London, provided some decorations in the form of United Kingdom-themed bunting and streamers.
Prince William's favourite cocktail - the Crack Baby, a mixture of vodka, champagne and passionfruit pulp - also did a lively trade alongside traditional English beef and lamb roasts.
Local band Mojo "rocked it out" and even managed to squeeze in a wedding cover with their rendition of Going to the Chapel.
Meanwhile, Amisfield Winery and Bistro at Lake Hayes boasted a Union Jack-bedecked posh pre-wedding set menu, attended by 30 suitably attired "guests" adorned in fascinators and finery.
Amisfield restaurant manager Tom Macaulay said the venue chose to throw the Tiaras and Tails party because Kate and Wills' nuptials were "a mildly historic event".
"We thought we'd make an effort for it and just have a bit of fun. It was hilarious."