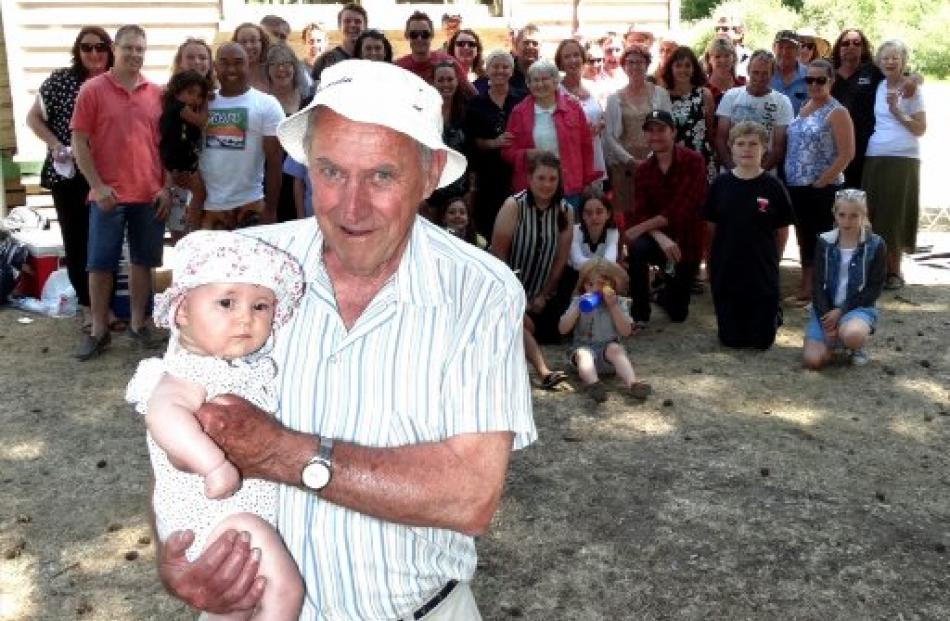 The old schoolhouse at Gibbston was the setting for an international and intergenerational family affair earlier this week.
Celebrating 100 years since his parents married, Paul Inder decided it was a good excuse to get the extended family together. Queenstown reporter Louise Scott was invited to join the celebration.
Four generations celebrate unionA centuryon, Indersgather tocelebrateFOUR generations of one family have come together to celebrate a very special milestone.
Dunedin man Paul Inder decided to mark the 100th anniversary of his parents' marriage, bringing together the entire Inder clan from around the world.
Mary (nee Leslie) and Albert Inder tied the knot 100 years ago this week: December 29, 1915.
Paul, now 81 and the last of his generation, decided the anniversary was a good excuse for a celebration and an opportunity to get the whole family together.
He sat down and wrote a letter, sent it out to family members, asked them to pass it on to other relatives, inviting them to converge at Gibbston during the Christmas break. ''A century of Inders in the Wakatipu. I think the occasion should be marked in some way,'' he wrote.
More than 60 family members spanning four generations attended the knees-up and Paul said he was ''surprised but pleased with the turnout.''
The entire family was represented and relatives travelled from England and the Netherlands. Local folk also came along, from Auckland, Dunedin, Canterbury and Christchurch.
Over a picnic and a couple of beers, the family exchanged old stories and reflected on the lives of Mary and Albert, from whom it all started for them.
The family has heard varying reports on how Mary and Albert met.
Albert was a coach driver, ferrying people from Cromwell to Queenstown and son Paul assumed it was when he dropped deliveries off at Gibbston School, where she was a teacher. Granddaughter Trisch Inder was told a much more romantic tale.
''I heard he left love letters in her postbox. Granddad was a bit of a poet.''
Music was important and Paul recalls his mum telling a story about when his father retired as a coach driver.
''They put a function on here at the school and I remember Mum saying she sang at it. I think it's because he would have been so well-known in the area and he'd have driven a lot of people around.''
While visitor numbers are not comparable to what Queenstown gets today, Paul says his father was one of the first tour operators in the area and took people out to the ''likes of Skippers''.
''Can you imagine how bad that road would have been back then? '' he asked.
The couple had their first child, Mary, in March 1917. Two girls, Patricia and Josephine, followed in 1920 and 1923. Out popped the first boy, Ronald, in 1924.
Trisch, Ronald's daughter says her father was not registered with the proper authorities when he was born and did not get a birth certificate until years later.
''I think granddad [Albert] was so excited a boy had come along he forgot to do the proper paperwork. After three girls, I'm sure he was delighted.''
The delight would continue, as two more boys followed, Leslie in 1927 and Paul, the only surviving sibling, in 1934.
The family grew up in Queenstown, where Albert owned stables. He was known as a good horseman and some of his horses were used as part of the World War 1 war effort.
When Albert retired as a driver they bought Hamilton House, a guest house for tourists in the resort.
Paul has fond memories of that time and explains most of the visitors were from Dunedin and Canada. The town was very different back then, he says.
''It was more seasonal. Everything closed up in winter and it was quiet at times. Some of the guests came back year after year and did become friends with my parents. Queenstown was an awesome place to grow up.''
Albert died in 1952 after being diagnosed with cancer, at the age of 68.
Mary died in 1968, at the age of 76.
Sadly for Paul, he is the only sibling left, and the last of his generation. While this was a harsh reality, he said it had been amazing getting all the family together.
''The whole family rallied around to make this happen and we have people coming in from all over. It's a great feeling.''
Not one to hog the limelight, he didn't want to be described as the family figurehead.
''No, that's too big a word. I don't think of myself like that. I'm just happy to have the extended family here.''
Trisch said it was a pretty special day.
''It is important to celebrate these happy occasions and to honour and cherish the memory of our forebears. After all, we wouldn't be here if not for their union.
It was very special to have representatives from all our families.
It can be easy to lose contact with wider family, especially when your parents die, but we grew up with the message that family is important. It was great to be able to reconnect and meet family members you hadn't met [before].''
Following the picnic lunch the family moved to the site of the original Leslie home, now Waitiri Creek Winery.