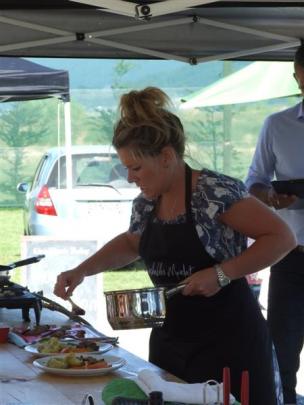 Josh Emett, of MasterChef and Rata restaurant fame, and New Zealand's only Michelin star chef, praised the talent of competitors in the Market Chef competition at Remarkables Park on Saturday.
The skills on show did not surprise the guest judge.
''I know Kiwis can cook,'' Mr Emett saidContestants are given an hour to create a meal from a mystery box of ingredients and $15 worth of items of their choice from the Remarkables Market.
Speaking after judging the first round between Naomi Lindsay and Anna Pettigrew, Mr Emett commended both women's talent.
''It was a slow start - about 20 minutes to collect their thoughts and make sure they get their ideas right but I think that's kind of crucial ... it's better if they take time,'' Mr Emett said.
Ms Lindsay won narrowly. Mr Emett said she ''had used a slightly more interesting combination of ingredients''.
In the second heat of the day, Nicky Viggers beat Paula Parker. Heat three was held yesterday and eight competitors are waiting to hear if they have made it through to the final.
The remaining heat date is February 23. The final will be held on March 23.