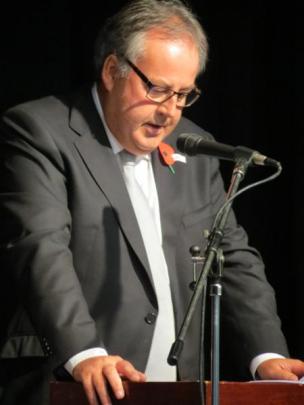 A pilgrimage to the killing fields of Europe, where tens of thousands of New Zealanders made the ultimate sacrifice in the defence of freedom, was recalled during the Arrowtown Anzac Day Memorial Service.
Queenstown lawyer Graeme Todd was invited to speak to the hundreds of Anzac Day commemorators of all ages who packed the Arrowtown Athenaeum Hall until there was standing room only.
Mr Todd described the personal connections he had over the years with World War 1, from the veterans he met growing up in Invercargill and his studies at James Hargest College, named after the decorated officer who was wounded at Gallipoli in 1915.
But Mr Todd spoke the most eloquently about his research into the war service of his grandfather, Ernest Morris, who died when the lawyer was 4. Mr Morris sailed alone from Maidenhead, England to New Zealand aged 13 and enlisted with the Otago regiment seven years later.
Mr Todd told the congregation how he pieced together his grandfather's training in England, which, ironically, took him to a base within miles of where the rest of his family still lived, and his deployment at the Western Front.
Mr Todd said that, during a family holiday to Europe, he retraced the steps of his ancestor to Ypres, scene of three battles in World War 1, including Passchendaele, which has become infamous for its high number of casualties.
His first-hand description of the Menin Gate Memorial concluded a sobering and poignant speech that was well received by the audience.