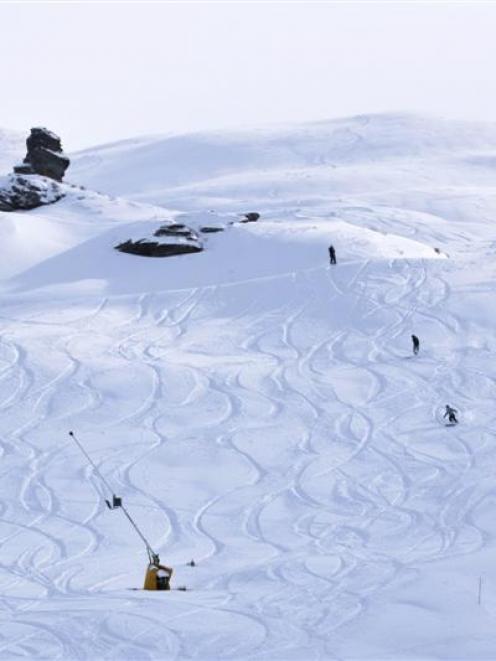 It's officially a record-breaker.
A southerly blast which hit the Wakatipu yesterday brought yet more snow with it, taking the total snowfall at Coronet Peak this season to more than 3m and making it one of the skifield's best seasons.
Ahead of the final weekend of night-skiing at the field for the 2015 season, light snow fell throughout most of yesterday, boosting the field's base to between 70cm and 170cm across the mountain.
NZSki chief executive Paul Anderson described it as the ''winter that just keeps on giving''.
''Spring often offers the best skiing conditions of the season and this year promises to be the most epic.''
Coronet ski area manager Ross Copland said the conditions on the mountain were the best in years and predicted there could be more to come.
The snowfalls began in May and more arrived in June, enabling the field to open considerably earlier than in recent years.
Throughout the season Coronet had been ''blessed'' with consistent top-ups, Mr Copland said.
''We've just broken the 2010 record and we're only 11 days into September,'' he said.
At the Remarkables, where there was a base between 110cm and 150cm, the snow cover to lower levels and continued top-ups had allowed the boundary of the Homeward Run to be extended to the Outward Bound ridgeline, more than 1.5km down the access road.
Ski area manager Ross Lawrence said that gave skiers another 13ha of terrain to enjoy, ending on the access road at the new No 4 car park.
Outside Sports owner and long-term resident John Knight said the town was ''really buzzing'' after a season which brought plenty of snow.
''Conditions up Coronet Peak and the Remarkables have been fantastic, and from the start of spring we've had some of the best powder skiing I've ever experienced.
''It's looking like it will be the best September snow conditions in years.''
The Remarkables is scheduled to close for the 2015 season on September 27, with Coronet following on October 4.