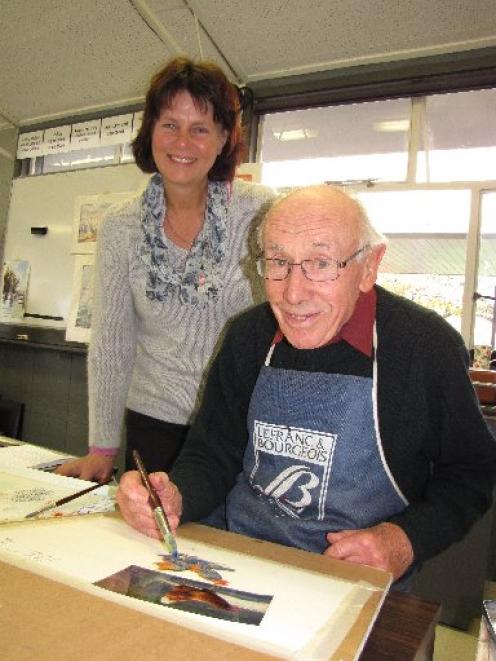 Ninety-year-old ''inspiration'' Scott Gray won many fans among his Wanaka Autumn Art School classmates this week.
Dr Gray, a former dentist and university lecturer who turns 91 on Tuesday, drove from his home at a Dunedin retirement village to take part in the five-day school's watercolour painting course.
He has been a student several times previously in the school's 25-year history.
Although the school attracts almost entirely adults, including some aged in their 80s, Dr Gray held the title of the oldest-ever student, organiser Robyn van Reenen said.
Dr Gray is a member of the Otago Arts Society and has always enjoyed painting and drawing ''as a hobby''.
He has attended various painting courses over the years, including once that toured through Europe, and sold work.
The last art school he attended in Wanaka was in 2012 under the tuition of Lower Hutt-based oils and watercolour artist Jacky Pearson.
She made quite an impression and her return to the school this year was the catalyst for Dr Gray signing up again.
''She's very good. She's one of the best tutors I've come across.''
Although a short memory meant ''I can't remember a lot of what she tells me'', Dr Gray had learned one important lesson from Mrs Pearson.
''She's the first person who's told me why my watercolours were not what they should be. Translucent.''
The course had been enjoyable but ''hard work'', Dr Gray said.
''Particularly for an amateur and a rather inept one ... everyone seems to be doing much better than I. I'm afraid I've been a rather disappointing practitioner.''
Others in the class were far more complimentary.
''He's an absolute gentleman and an inspiration to the rest of the class ... he's persevered under sometimes difficult situations and he's just a delight,'' fellow student Merran Adams, of Australia, said.
Mrs Pearson rated him a ''very accomplished watercolourist''.
''What's wonderful about Scott and very inspiring is that age is no bar to learning ... because he is so inquisitive about what needs to be done. He just wants to learn and I think that's what keeps him young.''
Dr Gray heads home today to resume work on a painting of an old family cottage near Arrowtown for his grandson's 21st birthday later this month.
More than 200 people attended this year's art school, which offered 15 courses including writing, upholstery, cabinet-making and singing.