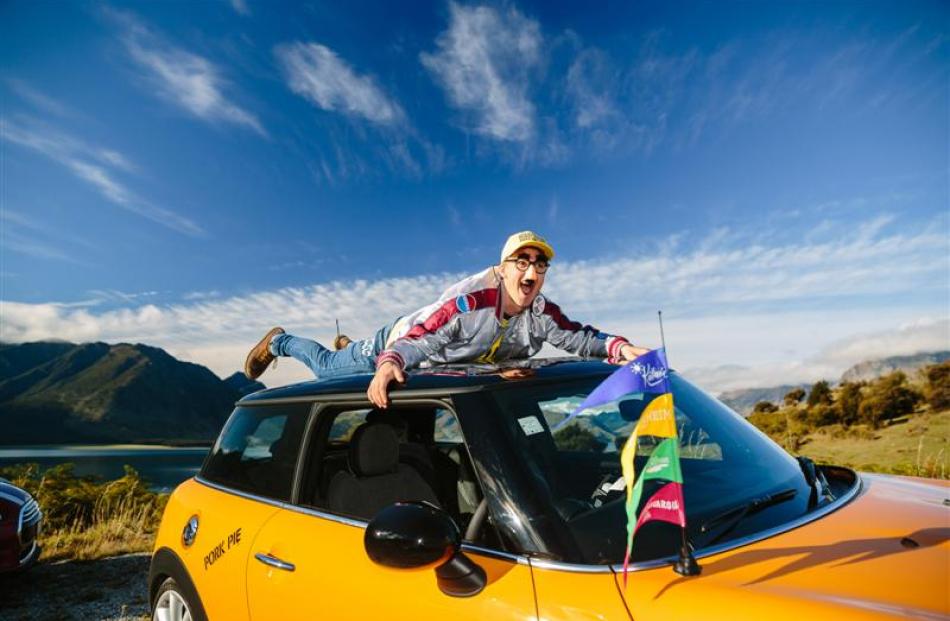 A mad dash to Invercargill is not on the cards for 23-year-old Vincent Blake Chilton when he finally gets his hands on the steering wheel of a Mini next month.
Mr Blake Chilton won a competition to take part in a website video commercial for the car, which was shot at Lake Hawea yesterday. The commercial is based on a scene from the 1981 New Zealand movie Goodbye Pork Pie, which was shot in the same place.
Mr Blake Chilton's part was to play middle-aged ''John'', sit in the passenger seat of a Mini being chased by a police car and shout at the driver: ''Any closer and he will be up your tailpipe.''
He told the Otago Daily Times it all went just as it was meant to - the Mini swerved past the tractor on the road and the police car ran over a bank.
And, no-one was hurt. Mr Blake Chilton, a freelance film-maker based in Wellington, is originally from Invercargill and his payment for being in the commercial will be the loan of a Mini for a month.
He expected it would be a pleasant change from his 1988 Toyota, but ruled out any possibility of driving it to his home town of Invercargill.
The commercial was directed by Matt Murphy, who is the son of Goodbye Pork Pie's director, Geoff Murphy.