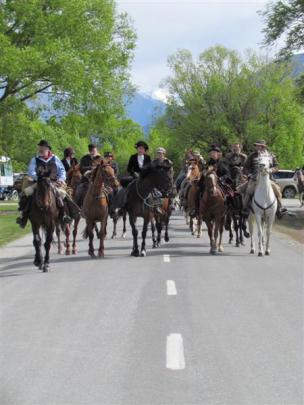 Crowds converged on the Glenorchy Waterfront Reserve on Monday to witness the arrival of a cavalcade of horses, with most of the riders clothed in 1860s-period garments.
The last day of the village's 150th anniversary celebrations had an official tone, with the launch of the extended Glenorchy Lagoon Walkway and the official opening of the refurbished library and a group photograph taken to document the historic event.
Queenstown Lakes Mayor Vanessa van Uden arrived in a 1928 Cadillac with her husband, Peter Laurenson, and horses stood among the crowd as fourth-generation Glenorchy resident Richard Kennett read out a list of the trials and triumphs of the settlement's early years.
Ms van Uden then helped judge the beard-growing efforts of local men, although 150th committee member Elaine Kirkland feared it was too cold to allow the beards to be shaved off on stage.
Other Gold 150 Celebrations slideshows:  
•  Gold 150 Celebration snapshots
• Buckingham Belles Miners Night