Chicago
attracted over the weekend the greatest number of Wakatipu talents ever to audition for a Showbiz Queenstown production and the directors face a tough task in deciding who will star.
A total of 58 women and a dozen men dressed the part, adopted the attitude of the sensational and satirical musical and gave their best shot for returning director Bryan Aitken, musical director Emma Wilson and choreographer Anna Stuart in the Qpact rooms.
Hopefuls earlier decided which principal or ensemble character they wanted to try out for and stated if they felt their strength was in acting or singing, although both were highly desirable.
They were each given a piece of music and dialogue to learn from the hit show, then had their individual allocated time to shine.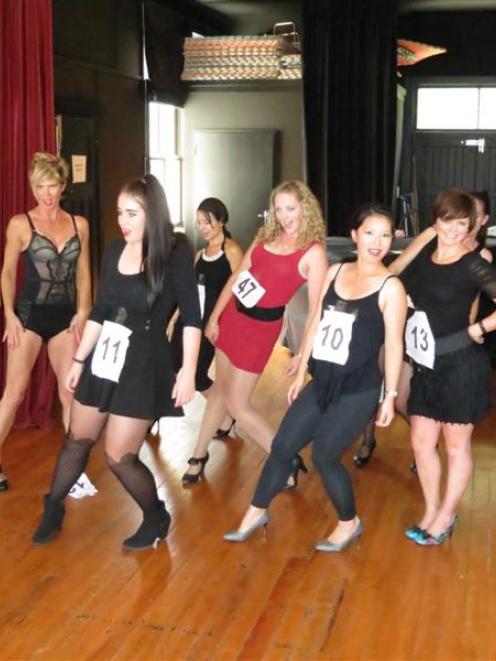 A cast of 30 men and women was needed to begin rehearsing next week, leading to the season in the revamped Queenstown Memorial Centre from May 16 to 25.
Mr Aitken said the auditions had been ''exacting and exhausting'' when asked to comment halfway through the process on Saturday night.
''The music has some specific needs in singing, dancing and acting, so it's a long and intensive process.
''Certain characters need triple-threats - people capable of acting, singing and dancing, which in previous plays wasn't so necessary.''
Mr Aitken said the creative team was trimming the list of contenders and he was confident a strong cast would emerge.
Showbiz Queenstown and Remarkables Park Town Centre present Chicago, based on the 1926 play by Maurine Dallas Watkins, inspired by real Prohibition era personalities she reported on for the Chicago Tribune.
It opened on Broadway in 1975, the West End in 1979 and was revived in 1996 to become the longest running musical revival in Broadway history. It became a film starring Renee Zellweger, Catherine Zeta-Jones and Richard Gere in 2002 and scooped six Academy Awards the following year.