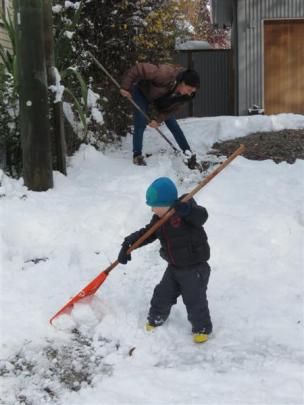 Queenstown police are advising motorists to take ''extreme care'' on the roads today after the resort and surrounding communities woke up to a heavy blanket of snow yesterday.
The Metservice issued a special weather notice yesterday for Southland, Otago, Canterbury and Fiordland saying severe frosts were expected overnight, but by 5pm yesterday noted ''the cold outbreak over southern New Zealand is easing''.
Sergeant Kate Pirovano, of Queenstown, said police were ''definitely worried'' about ice on the roads today.
''Everyone should take extreme care,'' she said, recommending people only drive if they need to be somewhere.
Motorists yesterday were ''pretty sensible'', she said.
She also advised motorists to be wary of overhanging tree branches laden with snow, which could snap and fall across roads.
Snow on the ground across the Upper Clutha district brought few problems for Wanaka police other than some vehicles sliding in icy conditions between Luggate and Wanaka.
There were no serious accidents, Wanaka sub area commander Senior Sergeant Allan Grindell said.
The Haast Pass reopened at 10am yesterday after State Highway 6, from Haast township to Makarora, was cleared of snow and the stability of the slip at Diana Falls checked after three days of rain, wind and snow in the area.
Last night's forecast freezing temperatures led the Queenstown Lakes District Council to close the Crown Range alpine pass overnight from 8pm to 6am today.
Council chief executive Adam Feeley said temperatures could drop to -13degC, making black ice ''inevitable''.
The alternative route via the Kawarau Gorge added only 15 minutes to a trip, he said.
The snow had contractors beginning work at 3.30am yesterday in the Queenstown Lakes district but, with schools closed, pupils could sleep in.
Many businesses in Queenstown yesterday did not open. Snow also affected some flights in and out of the resort.
A spokeswoman for Air New Zealand said yesterday's weather forced the cancellation of two return Link services between Christchurch and Queenstown.
Passengers were accommodated on an alternate service.
A spokesman for Jetstar said an Auckland-Queenstown flight and a Queenstown-Sydney flight were cancelled due to the snow.
Many Arrowtown residents took advantage of a snow day, waking to find about 20cm of snow blanketing the town.
Schools were closed. Council contractors worked hard to clear the roads.
However, many people opted towalk into the town, stopping to take photos along the way.
Snow continued to fall intermittently yesterday and with the temperature in the resort expected to plummet to -13degC overnight, it had the potential to cause havoc on the roads after a partial thaw yesterday afternoon.
Queenstown Lakes District Council senior transport engineer Richard Hilliard said main roads such as Gorge Rd, Fernhill Rd and the Lake Hayes to Arrowtown route were cleared first.
Delta worked yesterday to restore power to 150 properties at Jacks Point which had been without power for the day and did so by 5.30pm.
Earlier yesterday, power had been restored to 11 properties on Crown Tce, the Remarkables skifield and 100 properties at Mount Barker in Wanaka.
The Lindis Pass remained open yesterday, but chains were needed and towing vehicles were banned.
Central OtagoCentral Otago was let off lightly yesterday.
Most of the snow fell in the hills, and roads required only grit and grading in the morning.
Roading authorities reported all Central Otago District Council roads in the area remained open, with the exception of Danseys Pass.
Roads were clear and drying well yesterday afternoon.
Towns in the region were not affected, although the TrustPower Central Otago District Community Awards were postponed until further notice.
Light snow, up to 5cm in some places, was experienced in Cromwell, Alexandra, Naseby, the Ida Valley and the Maniototo. Snow fell more heavily about St. Bathans and Moa Flat.
Roxburgh remained clear.
North Otago, MackenzieDistrictNorth Otago and the Mackenzie Basin escaped the brunt of the storm, although low temperatures brought rain and sleet to the area.
Inland areas fared better than southern counterparts.
Otematata, Omarama and Tekapo had light dustings of snow at daybreak, but heavier falls on surrounding hills.
Any trace of snow disappeared as the weather started to clear mid-morning.
A warning was issued to avoid driving last night and take care this morning with frosts expected to bring icy roads throughout North Otago.
South OtagoMotorists in the Clutha district are also being warned to be wary of black ice this week, as snow clears.
''The heavy snow warning has been lifted, although some of the high areas, like Hillend, Lawrence, Clinton and West Otago, still have a bit,'' Clutha District Council communications co-ordinator Jamie Shaw said yesterday.
''We've had a few schools close, but no road closures or infrastructure damage. But people should take care, especially in the high areas, where it's quite slushy.''
Cool overnight temperatures and morning frosts were expected to continue in Clutha this week.
''The forecast is for things to clear, but it's going to get frosty and black ice will be a danger over the next couple of days,'' Mr Shaw said.
Balclutha police reported no snow-related incidents and said the snow was melting away by midmorning yesterday.
Road ice warningThe New Zealand Transport Agency yesterday warned drivers many Otago and Southland roads were likely to be affected by severe ice.
In a statement, the agency's Otago-Southland highways manager Ian Duncan said the storm which swept through both regions was followed by clearing, cold weather, making black ice a real danger.
Black ice is especially dangerous because it cannot be seen.
''Winter roads demand winter driving and motorists can keep themselves safe by lowering their speeds, increasing their following distances, and taking extra care when cornering,'' Mr Duncan said.
He said drivers should consider leaving later in the morning, to allow ice to thaw, or earlier in the afternoon before ice has formed.
In the same statement, released at 4.30pm yesterday, Otago Rural acting area commander Inspector Andrew Burns said anyone driving during the next 24 hours should be aware of the likelihood of black ice throughout Otago and Southland.