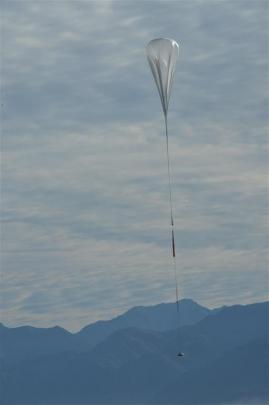 The deaths of stars and the birth of black holes will be among the cosmological events to be investigated by a scientific payload which will be carried on the United States' National Aeronautics and Space Administration super-pressure balloon to be launched from Wanaka Airport next Friday.
The Compton Spectrometer and Imager (Cosi), a Nasa-funded wide-field imaging telescope, will sit under the 532,000cu m balloon and look up at space, seeing 25% of the sky at any one time.
The telescope will look at the distribution of different gamma rays - high energy light which comes from extreme objects in the universe like supernovae - to trace the distribution of such cosmological events in our universe.
The telescope was designed and built at the University of California, Berkeley, with collaborators in Taiwan and France.
University of California, Berkeley PhD candidate Carolyn Kierans said the majority of the three-tier 1000kg aluminium payload was to help 12 detectors made from germanium work in space.
''The heart of our instrument is the very top, where there is an aluminium box that contains our telescope.''
The instrument differed from optical telescopes where the light is focused down to make an image, because gamma rays have such high energy ''you can't focus it in anyway'', she said.
The payload will use 475W of power and solar panels and batteries will be used in day/night cycles.
Ms Kierans said the telescope and study were ''complicated''.
"It is a very complicated process to make a simple image. Whereas usually you can just look at the sky and say 'oh there are stars there', we have to do it a little bit differently.''
The flight duration capability of the super-pressure balloon would enable the project to gather large amounts of data.
''The longest flight we had in the past was only 43 hours, so doing even a couple of weeks is revolutionary.
''For us, doing 100 days will be mind-blowing.''
She said Professor of Physics at Berkeley and leader of the Cosi collaboration Steven Boggs began the project in the late 1990s.
Cosi's predecessor, the Nuclear Compton Telescope, was first trialled in Fort Sumner, New Mexico, in 2005.
In 2011 it was redesigned to optimise its work with super-pressure balloons.
At its most recent trial from McMurdo Station, in the Antarctic, on December 28, 2014, the balloon developed a small leak and the flight was terminated one day and 20 hours after launch.
Nine of the Cosi team will attend the launch and track the initial flight of the balloon in Wanaka next week.