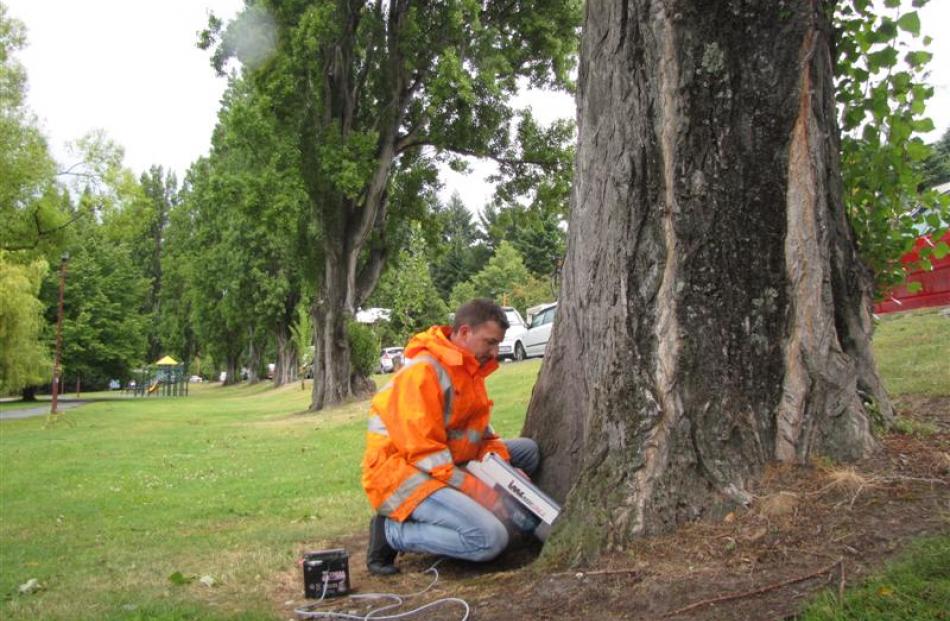 An Auckland arborist is expected to complete an assessment of about 22 trees along Lake Esplanade today - but it is too soon to say if any need to be felled after a 120-year-old Lombardy poplar was blown over on Friday night.
The massive tree, which came crashing down from St Omer Park across Lake Esplanade just before 7pm, instantly became Queenstown's newest tourist attraction, with a steady stream of people stopping to take photos of the tree and the damage it caused.
GreensceneNZ Ltd arborist Samuel Earp, of Auckland, arrived in the resort on Saturday morning to assess the remaining trees - primarily Lombardy poplars - along Lake Esplanade.
He used a resistograph to detect decay in the trunks of the trees by inserting a needle about 30cm into the trunk to measure resistance.
Low resistance indicated a cavity, he said. Mr Earp said yesterday it was too soon to analyse data from the trees. The information would help inform a council decision with regard to felling.
Lakeside Motel co-manager Joy Luke said yesterday she was at a neighbouring property when the tree came down, making ''one hell of a noise''.
As the tree fell, it clipped the roof of the motel, damaging it and part of the upper balcony, it smashed one of the motel's signs and came to rest atop seven cars - two largely flattened by the impact.
Most of the vehicles damaged had been rental cars, with replacement vehicles organised by the various companies by Saturday morning.
However, one vehicle was owned by a motel employee who was in the reception area at the time; she watched in horror as her car was crushed.
The employee and another man were about to walk out the front reception door as the tree fell, Mrs Luke said.
A woman who had just driven into the car park was the closest to being injured, being lashed with small branches.
''I just can't believe no-one got injured,'' Mrs Luke said.
The 15-unit, two-storey motel was fully booked on Friday night. Other damage to the second-floor unit included some ceiling slumping. Guests in that unit and other end units were relocated ''as a precaution'', Mrs Luke said.
Council staff and contractors spent most of Saturday removing debris, cutting up the remains of the tree and disposing of it using a wood chipper.
Several damaged cars - including one with a tree branch going through the windscreen and dashboard - remained in the car park yesterday, but were likely to to be removed today.
The event, considered an ''act of God'', would be covered by the council's insurance.
The tree which failed on Friday night was affected by white rot, Mr Earp said.
Trees contained both lignin, which gave it strength, and cellulose, which gave it flexibility.
White rot meant the lignin had rotted away, leaving cellulose. Queenstown Lakes District Council parks manager Mike Weaver said he expected to receive Mr Earp's report ''within days''.
The heritage Lombardy poplars had been assessed regularly and in 2005 one tree was removed after it was found to have a high level of decay. The remaining 23 were assessed again in 2007 and had been under ''regular scrutiny'' since then.
In 2009, Queenstown farmer Russell Liggett was killed on Lower Shotover Rd after a 20m poplar tree was blown down during high winds, crushing his Toyota Hilux.
In May 2010, the council applied for resource consent to remove a 30m poplar from St Omer Park because it was deemed a danger to public safety by an arborist.