A migrating moth considered a delicacy in parts of Australia has been blown across the Tasman to Cardrona.
The bogong (Agrotis infusa) was alive and well when it landed, but was then euthanised to become part of a moth collection being prepared by Otago scientists.
Landcare lepidopterist Dr Robert Hoare, of Auckland, told the Otago Daily Times it was not too uncommon for Australian moths to find their way to New Zealand, although the appearance of bogong was ''irregular''.
Dr Hoare said the 5cm-wide moth would have grown up in the dry interior of Queensland.
In spring, to avoid the heat of summer, it would have set out on a 1000km migration to mountain caves south of Canberra, flying at night and resting during the day.
However, a low pressure system would have picked up the moth, and over three days in November, given it a ''wind-assisted passage'' 2000km to Cardrona.
There it was collected in a trap, along with native New Zealand moths, as part of a study led by Landcare scientist Dr Barbara Anderson into Otago's nocturnal biodiversity.
The bogong has now been added to the collection being prepared by University of Otago Botany Department MSc student Max Buxton.
The annual migration of swarms of bogong moths are a familiar feature of southeastern Australia, particularly around Canberra.
At one time they were a rich source of protein for Aborigines, and Dr Hoare said recipes were available on line for bogong dishes.
''In the spring in Canberra, when they get the migration coming in, one restaurant used to serve bogong moth frittata as a specialty,'' Dr Hoare said.
● More common moth visitors from Australia include the spangled green and the crimson speckled.
---
---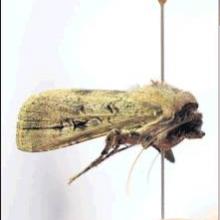 Bogong moth 
• The bogong moth was caught as part of an Otago study called ''shedding light on the night: nocturnal biodiversity in the Otago region'' developed by the Clutha Valley Primary and Holy Family School communities, Orokonui Ecosanctuary staff and research scientists at Landcare Research. 
• The study is designed to address the relative lack of lepidoptera knowledge and recording in Otago, and to enable students to learn more about the environment and scientific method.
• Otago is considered a ''hot spot'' for moth species in New Zealand. 
• Most New Zealand species are found nowhere else in the world.