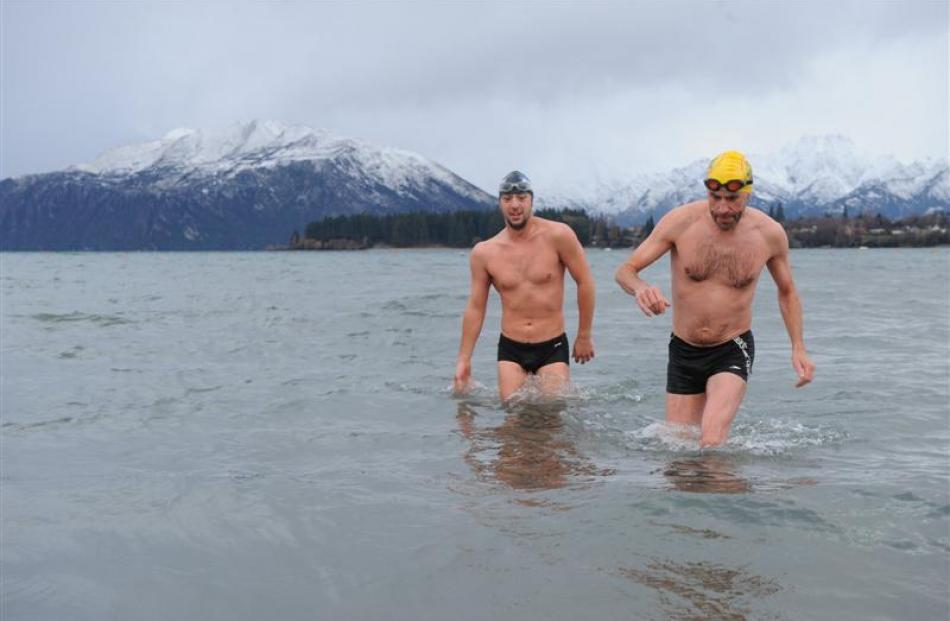 Former Otago Daily Times journalist and Wanaka Lake Swimmers club member Marjorie Cook hardened up and accepted an invitation to go on a winter ocean swim with two tough Cork swimmers she met in her home town of Wanaka.
Sylvian Estadieu and Pariac Casey caused a stir in a snowy Wanaka on July 12 last year when they began splashing about in Lake Wanaka.
Swimming in Lake Wanaka has become increasingly popular in recent summers, in line with booming enthusiasm for the sport of triathlon and the Challenge Wanaka event. But locals thought the two Cork residents were mad. After all, it was the middle of winter, the region was shivering under a fresh mantle of snow, the water temperature was below 9degC and they weren't wearing wetsuits.
The men soon broke the ice with the community. Sylvain and his girlfriend, Greta Arvidsson, were on a 50-week tour of New Zealand in a campervan and Sylvain contacted Wanaka open-water swimming group member Claire O'Connell looking for training partners. He didn't find any, but he and Greta did get some hot dinners because Claire invited some of her swimmer friends to meet the crazy man planning to swim the English channel in 2013 in the gruelling butterfly stroke.
Meanwhile, Paraic and his wife, Riana Parsons, were also being fed pretty well by friendly Wanaka locals.
Paraic had just started a 2 million metre training programme for his first English Channel bid in July this year which necessitated lake training over the 2011 winter. When the Otago Daily Times illustrations editor Stephen Jaquiery arrived to photograph the swimmers, a cold drizzle was washing the snow into the lake and it was a depressingly overcast, grey day.
Sylvain and Paraic were revelations. Most swimmers we support are focusing on conquering the cold for long enough to get around either of the 3.4km or 1.9km Challenge Wanaka swim courses. Only a small number consider adventure swimming outside the line of buoys off the lake's Wanaka shore.
Tragically, Paraic died of a heart attack in July this year, just 1km from landing in France at the end of his Channel attempt.
His passing was keenly felt in the Cork swimming community, which is one of the top four places in the world to prepare for Channel or long distance swimming - the others are Dover, Jersey and San Francisco). Sylvain (26) is now living in Sweden, where he is continuing to prepare for ice swims and his butterfly Channel attempt.
On Sunday, October 21, just 24 hours after arrivingin Ireland, I was in the Celtic Sea at Sandycove Island, ready to take the wetsuit-free swim test.
I could count the number of sea swims I have done on one hand and I have never swum in surf of any significance. On this day, the surf was crashing in big waves on the corners and back of the island, the water was 13degC, just slightly warmer than the 12degC air. Corkonians describe this as "toasty" but for me it was a bit like taking an ice bath.
One option for me was to attempt a 1700m lap around the island but I stayed in the bay, striking out for the closest shore of the island about 200m away.
On the return trip, my arms were numb, my fingers were white and my feet were blue and I was told my Kiwi accent had disappeared. I shivered violently for about 30 minutes after getting dressed. But I closed the circle. I swam at Sandycove and now I know why Paraic and Sylvain were so tough.