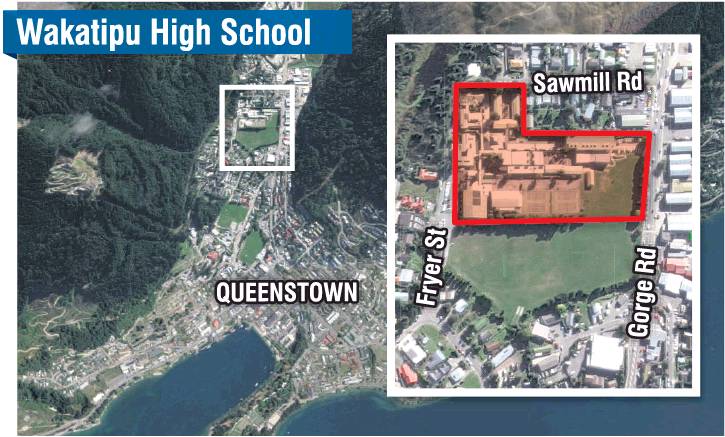 The former site of Queenstown's high school looks set to be developed for housing.
The former Wakatipu High School grounds are being sold by the Ministry of Education to the Ministry for Business, Innovation and Employment (MBIE).
Indications suggest that is to allow it to be pegged for a housing development.
Land Information New Zealand crown property deputy chief executive Jerome Sheppard confirmed the sale of the site was being finalised.
''Settlement is expected to take place in the coming weeks and we'll be able to provide more information once the process has been completed.''
The Gorge Rd site has been empty since the move to a new campus at Remarkables Park at the start of the year.
The ministry started the disposal process on April 3.
That triggered a multi-tiered process.
The first step was to determine if the land was needed for any other public works.
The Ministry of Housing and Urban Development (MHUD) has confirmed MBIE is buying the site.
MHUD was reluctant to discuss details.
''The Ministry of Housing and Urban Development is continuing to look at a number of options to help it deliver on its housing agenda in the Queenstown Lakes area,'' a spokesman said.
''The ministry isn't in a position to provide any further information at this stage, but hopes to make an announcement before the end of the year.''
Queenstown Lakes District councillor John MacDonald, who chaired the Mayoral Housing Affordability Taskforce, said finally getting some progress on the site's future was ''fantastic''.
''It's exciting that something's finally happening. It's taken a long time.
''It's great if it goes to housing - we need it in and around town.''
''It's a big site. I think it needs to be reasonably high-density, multi-storeyed.''
Ngai Tahu has long been thought to have an interest in the site.
In a statement, Ngai Tahu Property chief executive David Kennedy said the Linz notice was ''part of a process being undertaken by the Ministry of Education and the Ministry of Housing and Urban Development to make land available for housing purposes''.
''Ngai Tahu Property continues to work with the Crown as it considers how to increase housing availability in that area.''