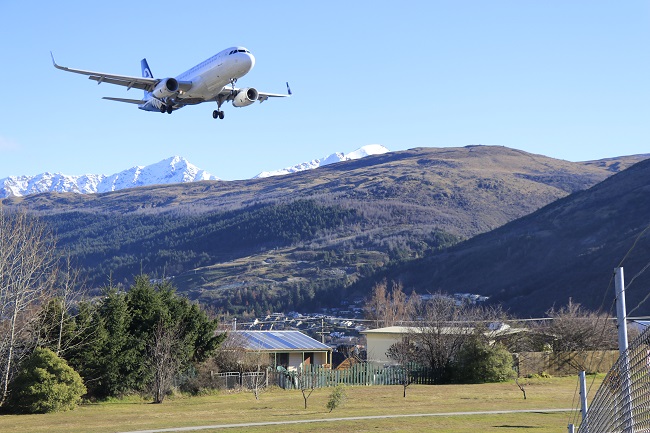 Queenstown Airport has put its expansion plans on hold after a thunderous response from the community.
The airport announced earlier this year the need to expand its noise boundaries to allow for growth – doubling of the number of flights over the next three decades.
But the outcry from Queenstown, struggling to cope with growth from a tourism and population boom, has been as loud as a jet engine.
Figures released by Queenstown Airport Corporation this morning state QAC received nearly 1,500 online survey responses as well as 19 individual and group submissions during its five-week public consultation on the proposed noise changes
Now, QAC chief executive Colin Keel says said after considering community and stakeholder feedback QAC will advance its Wanaka Airport master plan work and consider other key long-term planning initiatives before progressing its noise change proposal to the next stage.
Mr Keel said it was clear from the public consultation that many people linked the potential of increased airport activity to the wider questions around regional growth.
"We are mindful that Queenstown Airport is only one part of the wider picture and our consultation should not lead this important discussion on future growth.
"For this reason, it's prudent to integrate our planning with others who have initiatives currently underway.
"We will factor in considerations for Wanaka Airport in order to form a more comprehensive picture of the dual airport approach as well as strategic planning by other regional and national organisations, particularly Queenstown Lakes District Council.
"This approach should assist in providing a more informed view on a desired and sustainable level of growth and development for our district," he said.
The expansion of its two noise boundaries – inner and outer – would enable 41,600 flights to land in the resort by 2045. That's 114 a day on average.
But noise from aircraft would increase significantly, especially within the inner noise boundary in Frankton.
The extension of the outer boundary would include Kelvin Heights, Lake Hayes Estate, Shotover Country and Frankton Road.
It would affect 3000 additional homes, four schools and Lakes District Hospital.
The present noise boundaries allow for 21,000 scheduled aircraft movements each year.
An expansion would allow more than doubling annual passenger movements (counting both arrivals and departures) from about 2.05 million to about 5.1 million.
Queenstown Lakes District mayor Jim Boult says the consultation process has been a valuable discussion for the community as a whole, as it looks to the future.
"As we continue to drive master planning in Queenstown, Wanaka and Frankton, the conversation with the community around air noise boundaries at Queenstown Airport has been timely.
"I think the QAC's process has helped to underline for all parties the criticality of ensuring key strategic asset growth in our district must consider a broader context.
"In that respect I think it has been a valuable discussion that can usefully influence QAC as it continues to consider its future planning and for QLDC as we continue our strategic work to ensure a great future for our district."
He commended QAC for its "open and robust round of engagement".
"I also acknowledge that they are genuinely listening and responding to our community, as well as taking insight from other organisations, plans and strategies, including those of QLDC, to inform how they proceed in this process.
"Council certainly supports an integrated approach as suggested by the QAC team, to ensure the right outcome for the community, for visitors to our district and for the associated tourism sector.
"The future growth of the district, what that may look like and how that impacts our community, is something that this Council is very focused on."