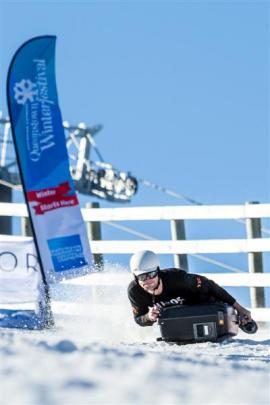 Queenstown Winter Festival organisers are ''rapt'' with the public's response to the 40th annual edition of the event.
Of the more than 60 events planned for the 10-day festival, only the Slopestyle Invitational scheduled for the Remarkables Ski Area yesterday had to be cancelled because of the lack of snow on the mountains.
Instead the fine weather and relatively mild temperatures encouraged thousands of people to take in the festival action.
Festival manager Lisa Buckingham said the 40th event marked an important year for the festival and she had been thrilled by the response from residents and visitors.
Most ticketed events had sold out and free events had drawn big crowds - particularly the opening party and fireworks on June 20 and yesterday's Community Carnival in downtown Queenstown.
''It's been a huge turnout this year.''
After a hiatus of a few years, the Comedy Night had been brought back
following a survey of residents, and thanks to a sellout crowd, would ''definitely'' be back next year, she said.
Coronet Peak was the scene of sporting contests of varying degrees of seriousness on Saturday, with the Dash for Cash, Suitcase Race and Musical Chairs events.
In the Dash for Cash, 13 entrants had to alternately ski or board and run up, down or across the mountain and scramble through netting in a kind of snowy multisport time trial, while 39 brave people put their bodies as well as their luggage on the line in the Suitcase Race, which required contestants to slide down a course on increasingly battered suitcases.
In Queenstown, children had an event just for them in the Family Fun Day at the Queenstown Memorial Hall, complete with puppet shows, face painting, art, beadmaking and story-telling.
Saturday night's main attraction was the Mountain Scene Thriller in the Chiller, in which 18 amateur boxers went head to head in front of a sold-out crowd at the Queenstown Events Centre.
The event raised $24,000 for the Branches Charitable Trust, taking the total raised in five years to more than $100,000.
On the same evening, local ice hockey team Southern Stampede and Auckland's Botany Downs team played the second game of a two-game series at the Queenstown Ice Arena, with the visitors managing to tie the series after Southern Stampede's 9-7 win on Friday night.
The festival was brought to a close yesterday. The Community Carnival brought big crowds into central Queenstown to sample the diverse cuisines of the many cultures represented by the town's residents at stalls run by charities, schools, restaurants and cultural groups.