The partner of an Australian tourist missing in Queenstown has grave concerns for his safety.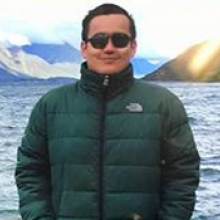 A search and rescue team was sent out Tuesday night after 25-year-old Robert Galdamez failed to return from a walk on Ben Lomond, above the Skyline complex.
Up to 10 searchers and a helicopter resumed the search this morning, combing the wider area from Ben Lomond to One Mile, with police also handing out posters to people heading up the gondola or track.
The search had provided no new information at 9pm on Wednesday. Mr Galdamez has now been missing for more than a day.
Tim Heritage told the Otago Daily Times on Wednesday afternoon that Mr Galdamez had only arrived in the resort with a friend on Monday and was to return to Melbourne on Saturday.
Mr Heritage had received some messages from his partner of four years while he was walking up Ben Lomond, but then lost contact with him.
"He did say he was getting scared and I kept asking him, 'Are you alright, are you alright?' and he didn't respond back to my messages.
"Later on I checked and it had been an hour. He's not a person to just not reply back."
Mr Heritage understood his friend had set out on the walk with Mr Galdamez, but turned back after about 30 minutes. 
Mr Galmadez continued alone. While physically fit, he also had a history of epilepsy, Mr Heritage said.
"My fear is he's up there alone. He's not full-blown, has fits, seizures every month or so ... but he has collapsed before and that's what I worry about."
Mr Galdamez was last seen at 3.10pm on Tuesday at the top of Skyline's gondola. He was wearing blue Nike shoes, black sports leggings and a dark green North Face puffer jacket.
He last made contact via his tablet just after 6pm. 
Senior Constable Terry Wood said the message from Mr Galdamez was he  ''wasn't sure where he was'', was not "too comfortable" and believed it would be dark soon.
Police were contacted about 8pm and began the search.
Snr Const Wood said Mr Galdamez had planned just to do a day walk.
"[He] certainly wasn't prepared to go out for the evening. He has no food and very little water.''
Anyone with information is asked to contact police. 
Queenstown police (03) 441 1600