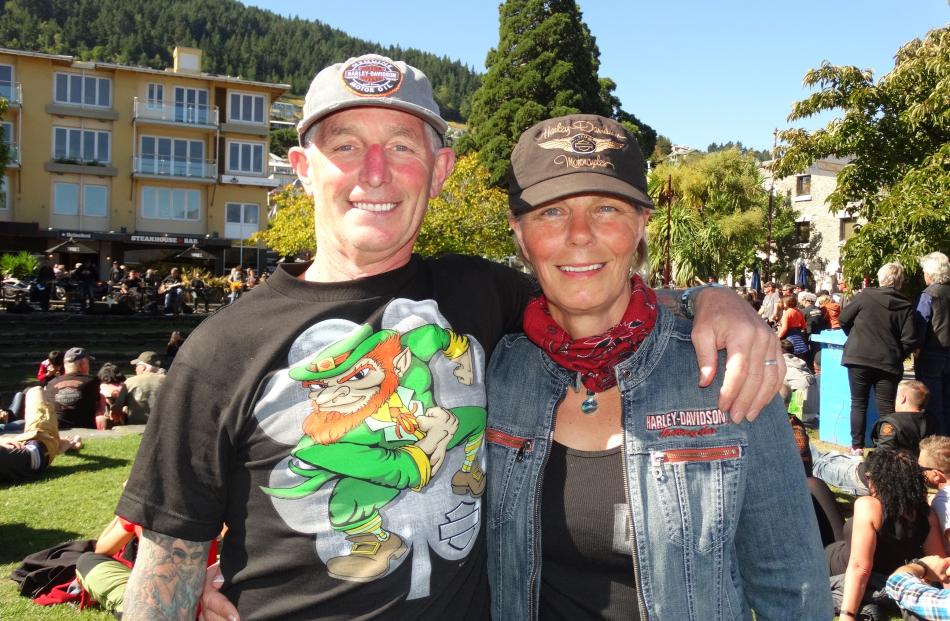 Hundreds of Harley-Davidson motorbikes rumbled from Queenstown to Arrowtown on the annual Thunder Run.
Saturday's mass-participation ride was one of the highlights of  Iron Run 2017, in which Harley owners from across the country  travel to Queenstown for a two-day festival.
This year's Iron Run was extra special for veteran biker Kenny Williams (60), of Greymouth.
It is his 20th year on the Iron Run but the first time he's ridden it while on honeymoon.
He married Lesley last Monday.
"It's been fantastic," he said.
"I was 60 on the 13th and we got married on the 13th, so this is our honeymoon.
"We love catching up with old friends. Everyone is like our extended family, and it's so well organised."
Mr Williams rode his 2014 CVO Breakout on the run, while Mrs Williams rode her 2014 Standard Breakout.
"The run was just brilliant, all riding together and the noise of thunder and the scenery."
The annual "motorcycle lifestyle event" is jointly managed by the six authorised New Zealand Harley-Davidson dealers, supported by Harley-Davidson Australia.
More than 1000 riders and pillion passengers  on more than 500 cherished machines made their way to Queenstown. The distinct rumble of the engines was the resort's soundtrack over the weekend, along with biker band the Screamin' Eagles, who played for a large crowd in the Village Green on Saturday afternoon.
Early in the day, gleaming Harleys had lined both sides of Arrowtown's main street, Buckingham St, for about 300 metres as the bikers parked for street party and "Show n' Shine".
Riders included Harley-Davidson ambassadors actress Danielle Cormack, former All Black Josh Kronfeld, radio broadcaster Jay Reeve and Australian BMX and mountain bike rider Caroline Buchanan.