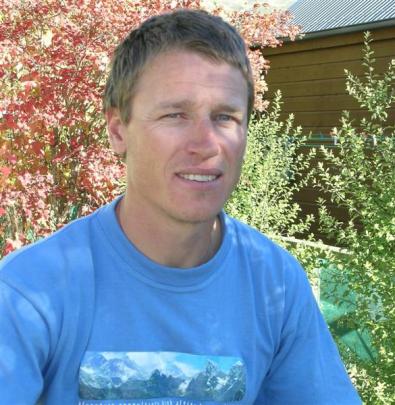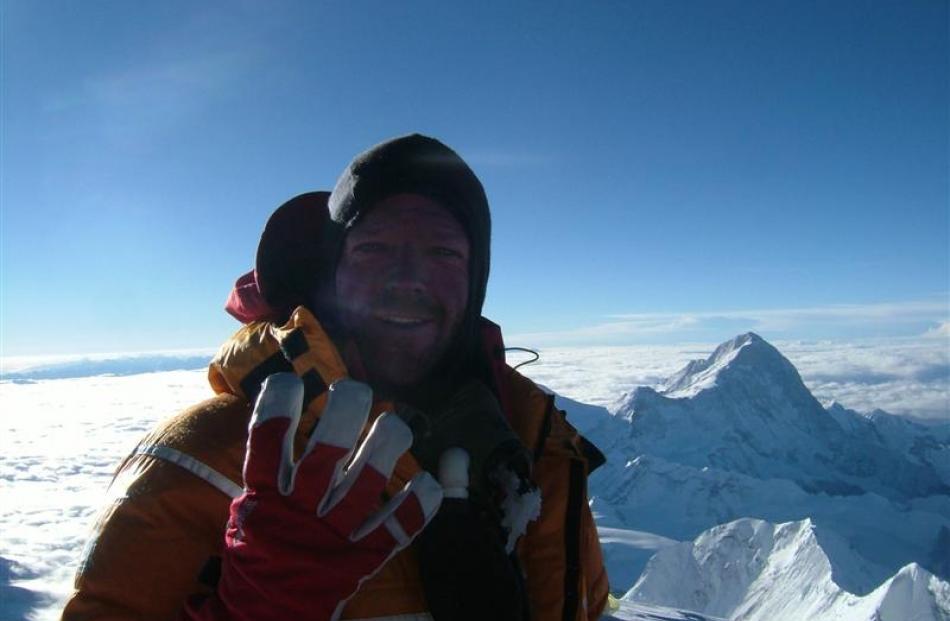 Since Sir Edmund Hillary claimed his world-first ascent in 1953, New Zealand climbers have established a global reputation on Mt Everest. At the forefront are climbers from the Wanaka-Hawea area. Lucy Ibbotson reports.
The Wanaka-Lake Hawea area is believed to boast the highest number of climbers per capita in the world (outside of Nepal) to have reached the summit of the world's highest mountain, Mt Everest.
''We would be fairly confident with making that statement,'' accomplished Lake Hawea mountaineer Guy Cotter says.
He ought to know. His Wanaka guiding company, Adventure Consultants, has played a huge part in the towns' claim to fame, and the esteem in which New Zealand guides are held on Everest.
''Kiwis are well represented in the high-altitude guiding field, with a higher proportion per capita of our guides at the top level of the industry than any other nationality - except for Sherpas.''
Adventure Consultants has been at the forefront of high-altitude guiding for more than 20 years.
''Because of the quality of our staffing, we have one of the most respected names in the industry, which isn't a bad position for a team coming from little old Wanaka.''
There are six climbers from the Wanaka/Lake Hawea area - all guides for Mr Cotter's company - who have successfully summited Everest. Just look at Lydia Bradey, Dean Staples, Mark Sedon, Mike Roberts, Steve Moffat, and Mr Cotter himself, who have a total of 22 ascents between them, including some which feature in the record books.
Ms Bradey was the first woman in the world to climb Everest without oxygen and the only New Zealander to climb it without oxygen. She comes from a household boasting 10 Everest ascents - she suspects among the highest for a household in the Western world - as her partner, Dean Staples, has summited eight times. He was also the first New Zealander to climb Everest from both the north and south.
Of course, members of the group have many other Everest expeditions under their belts, but as guides, helping clients in difficulty has sometimes necessitated sacrificing their own summit.
''When people ask about Everest they are not really interested in hearing about the expeditions where you did not personally summit - it is like these do not count as valid Everest time,'' Mr Roberts says. Despite Everest's revered status and the ''high drama'', ''life-changing'' experience it provides, the Wanaka/Lake Hawea mountaineers do not view it as their greatest climbing accomplishment, citing other ascents in their lengthy climbing careers as more personally satisfying.
''The fact I have always climbed [Everest] with oxygen, using Sherpa support, on established routes with pre-placed fixed ropes, means I have not felt the sense of accomplishment I may otherwise have experienced if I had been pioneering or climbing routes independently,'' Mr Roberts says.
For Mr Staples, eight Everest ascents are certainly among his higher accomplishments, but he favours ''any number of [other] climbs that I've pushed myself to the max and felt right on the edge'' as his greatest.
Aside from the obvious fact the mountainous terrain in the Southern Lakes district means Wanaka, Hawea and Queenstown are where most of the country's mountain and ski guides live, what else makes the area's climbers so over-represented on Everest compared with the rest of the world?''You'd have to say Guy at Adventure Consultants - that would be the first,'' Mr Staples said.
''Without his business operating here, a lot of us wouldn't have continued to summit with his company.''
The Wanaka/Hawea guides also unanimously identify New Zealanders' general ability to handle the ''hard graft'' of mountaineering.
''We are a resilient bunch, used to hard work and big packs,'' Mr Sedon says.
''We have a good sense of humour, which is critical in stressful guiding situations and we have a very good track record at high altitude.''
Ms Bradey says New Zealand mountains are simply smaller versions of Everest, making the logistics just the same but on a lower playing field. Mr Roberts agrees the rugged nature of the Southern Alps creates a perfect training ground for Himalayan climbing.
''And of course Sir Ed's legacy on Everest is a major influence on the psyche of Kiwi mountaineers,'' he adds.
---
GUY COTTER
Age: 50
Lives: Lake Hawea
Number of Everest summits: 4
Guy Cotter, who climbed his first mountain at the age of 11, reached the Everest summit for the first time in 1992, and then again in 1997, 2006 and 2007.
''It is an iconic mountain as it's the highest and has a history that resonates with New Zealanders ... I really enjoyed the intensity of the expeditions on that mountain.''
Mr Cotter's company is constantly helping sort out issues which arise for other people who have gone for the cheapest way they can find to climb Everest, then discover what is lacking when things go wrong.
''A lot of people think that successful high-altitude climbers are the ones who take the most risks. The reality is that the successful ones are the people who assess the options and take the least risky path in a high-risk environment.''
Mr Cotter gets great satisfaction from enabling other people to have safe and successful Everest ascents, from which clients gain ''a rebirth'' of sorts.
''All the small things in life we normally take for granted are seen with a renewed perspective and we tend to appreciate life much more than if we'd stayed home and done nothing.''
While the same feeling could come out of a weekend spent in New Zealand's outdoors, ''Everest somehow represents the pinnacle of this phenomenon''.
Mr Cotter is focusing on other peaks these days, but has not ruled out another Everest attempt.
MARK SEDON
Age: 43
Lives: Lake Hawea
Number of Everest summits: 1
New Zealand Mountain Film Festival director Mark Sedon has spent 20 years climbing, including a successful ascent of Everest in 2007.
The final hour approaching the top - ''when it finally dawned on me that I would summit, because as a guide you keep the summit out of your mind in case you have to turn back with a client'' - was an emotional time for him.
''I was laughing one minute, crying the next, then laughing again ... I could hear the Sherpas clanging pots and cheering over the radio and I knew the base camp manager was on the phone to my wife Jo back in Wanaka.''
These days, Mr Sedon enjoys climbing with clients at a less technical level than his previous personal climbing.
''It feels safer and I get to go to the most amazing places on the planet.''
He will not climb Everest again, mainly because of the expedition's hefty time demands.
''It's more suited to a single bloke ... plus I am concentrating more on ski-guiding these days, so unless I can find someone who wants to go ski Everest, I'll leave it for the others.''
STEVE MOFFAT
Age: 40
Lives: Hawea Flat
Number of Everest summits: 1
Steve Moffat has been ''scrambling round the mountains of New Zealand'' since the age of about 15 and has been guiding internationally for more than 10 years in Peru, Argentina, Australia, Antarctica, Greenland, Iceland and Nepal.
His ascent of Everest came when he was guiding for Adventure Consultants in 2006, which was ''a tough year, with quite a bit of tragedy taking place on both sides of the mountain''. However, in his small expedition group, comprising three clients, another guide and a supporting climbing Sherpa, all had a safe and successful climb.
''I am still guiding and climbing and quite happy with my chosen profession. I love the way it takes me to far-flung places and you really get to meet some interesting people.''
DEAN STAPLES
Age: 48
Lives: Lake Hawea
Number of Everest summits: 8
Coming from a ''good old Kiwi tramping background'', Dean Staples has loved the mountains since his childhood and started climbing with ropes aged 19.
Having already been above 8000m several times, Everest was ''the next obvious way to go''. He has reached the top of Everest ''pretty much every year'' since his first successful climb in 2004 - including twice in 2007.
His most recent summit was in May last year. He has summited four times from the north side, out of Tibet, and four times from Nepal with Adventure Consultants, and has ''seen it all'' during his multiple ascents.
''I've had everything from being on the top in basically a blizzard and couldn't see anything to being on the top standing around for an hour with my gloves off taking photos ... I've been up there by myself and I've been up there with 250 people [May 19, 2012].''
He believed Queenstown guide Mark Woodward is the only other New Zealander who has reached the top of Everest's
as many times as him, and says there are only one or two Westerners with more than 10 ascents.
Mr Staples plans to climb Everest again, probably this year.
LYDIA BRADEY
Age: 51
Lives: Lake Hawea
Number of Everest summits: 2
Lydia Bradey was still a teenager when she climbed Mt Aspiring and Mt Cook and made the first ascent of Mt Tasman's Balfour Face by a female.
She subsequently climbed and guided throughout the world, including a successful ascent of Gasherbrum (8035m) in 1987, which made her the first Australasian woman to climb one of the world's 14 8000m peaks. It may have been the first alpine-style and oxygen-free ascent of an 8000m peak by a woman.
She first reached the summit of Everest in 1988 via the southwest ridge, alone and without bottled oxygen - a world-first for a woman - on an expedition during which half of her climbing party died. That achievement was officially recognised at a ''Women on Everest'' commemoration ceremony in Kathmandu in 2005.
In 2008, she guided on Everest via the South Col for Adventure Consultants.
''It was a unique opportunity to have experienced Everest, both alone, without oxygen and with no fixed ropes on the summit day, and then to climb it again, superbly supported by Sherpas, using oxygen, and with ropes to the summit.''