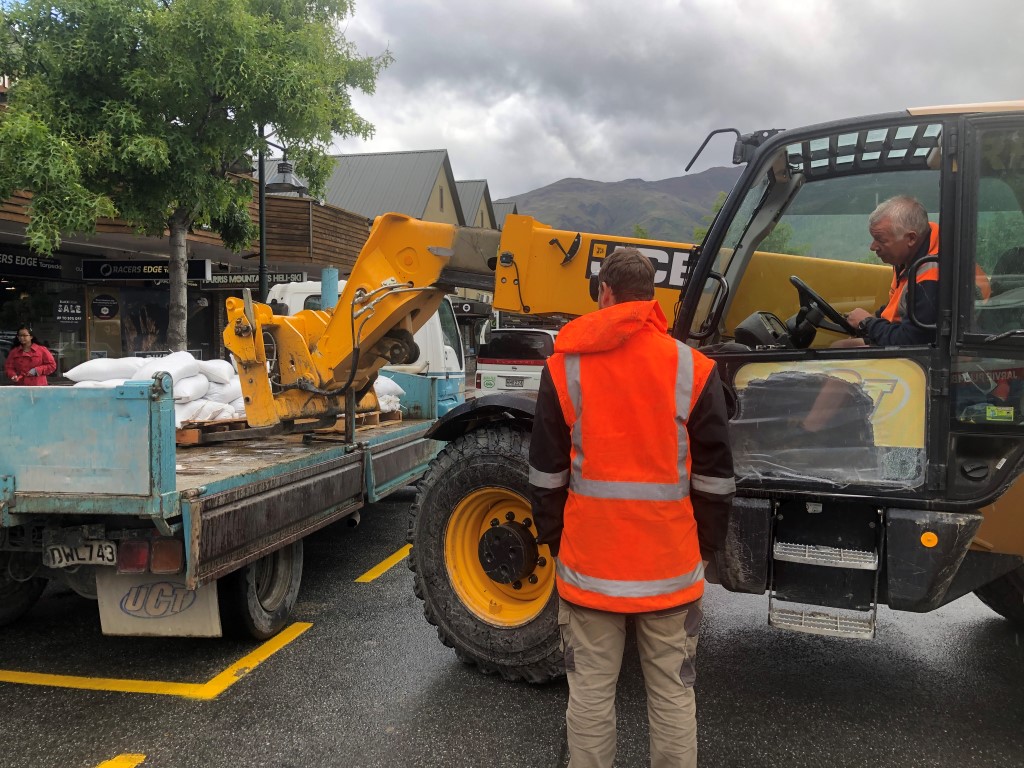 Rising waters in Lake Wanaka and Lake Wakatipu could cause flooding this week as heavy rain hits parts of the South today, the Otago Regional Council is warning.
In Wanaka, residents are on alert this afternoon as water levels continue to rise, and the Queenstown Lakes District Council (QLDC) has said it is considering providing sand and sandbags in the town from tomorrow morning.
The QLDC said with the risk of flooding in low-lying parts of Ardmore St predicted by ORC modelling, it had decided to provide the protection measures for concerned businesses and property owners as a precautionary measure.  The conditions and predictions would be reviewed early on Wednesday to confirm the need to go ahead.
If needed, sand and sandbags will be available from the Dunmore St carpark, and times will be confirmed.
Teams will also be on standby to initiate road closures in the Ardmore St area should conditions necessitate it.
Wanaka Gourmet Kitchen owner Sam Blatch said the situation was "looking pretty serious" about 3.45pm.
Persistent rain throughout the day, particularly heavy at times, had filled the catchments and rivers were raging, prompting the town to go on alert.
"Water is touching the little log cabin [on the lake front]," he said.
"The main wharf is completely under water. You can't even see the posts sticking out."
The rising lake level has prompted at least one business to move some of its gear to higher ground.
Lakeland Wanaka has moved some of its equipment out of the log cabin it is based from as a precaution as lake levels continue to rise and rain continues to fall.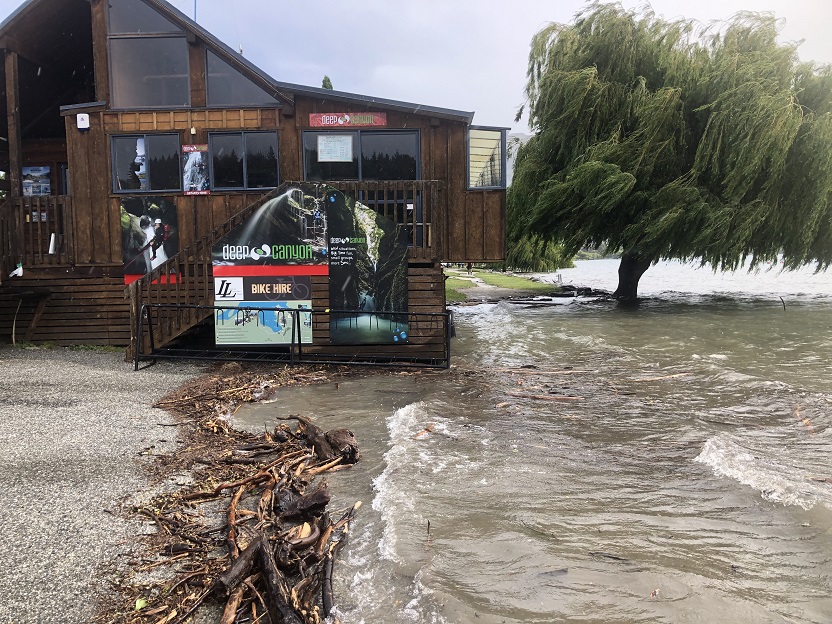 Office manager Amanda Grant said because the building is on stilts it was ok for now, but the company would reassess the situation tomorrow.
Deep Canyon, which operates from the same building, has also moved equipment out temporarily due to the rising water levels.
General manager Ros Goulding said the company was still operational, but like many tourism operators, the situation would have an impact financially.
She said in some cases people's schedules would be interrupted, which could include not being able to make it to their bookings for activities or accommodation, or be delayed returning rental vehicles.
"It's super disruptive to everyone . . . especially right on Christmas."
The rain has caused several South Island roads to be closed - particularly on the West Coast and in Marlborough - and forced the closure of the Tuapeka Mouth punt bridge on the Clutha.
The NZ Transport Agency is urging drivers to drive slowly as slips and fallen trees are posing problems in some places. 
State Highway 6 was closed at Inangahua Junction, where the Buller River was high and flooding covered the highway.
A MetService severe weather warning for heavy rainfall for the headwaters of Otago lakes and rivers is in place until 5pm tomorrow. A warning is in place for Fiordland until 5pm tomorrow. 
In a statement this morning the Otago Regional Council (ORC)  said there was a strong potential for high lake levels this week, as further periods of significant heavy rain are expected to follow the heavy rainfall experienced overnight and in the last few days.
ORC Duty Flood Officer Jean-Luc Paya said headwater rivers feeding into lakes Wakatipu and Wanaka (such as the Dart River and the Matukituki River) had risen significantly during the night.
The water levels for Lakes Wakatipu and Wanaka were also rising. Modelling by ORC's flood management team showed that the lowest-lying parts of Ardmore St in Wanaka were likely to be affected by the lake by Wednesday morning, which would likely to lead to some localised road closures.
Lake Wakatipu was likely to be close to the level where water levels could inundate low lying lakeside reserves (including in the vicinity of Glenorchy) and enter the stormwater system in Queenstown from Wednesday morning or midday.
Strong winds were also forecast, which could cause waves and floating debris to impact the shoreline, and any boat users during that time should take additional caution in case of submerged logs and other debris.
More rain was expected later in the week which is likely to raise the lake water levels further.
Rivers at the outlets of the lakes (such as the Clutha River and Kawarau River) were starting to rise and are expected to continue to rise during the day as the water levels in the lakes increase.
Due to the rainfall from the previous days and further rain predicted in the headwaters, water levels and flows in the whole Clutha River catchment are high or will rise and were expected to remain high during at least next week.
ORC was closely monitoring the river flows and lake levels and working with Queenstown Lakes District Council and Emergency Management Otago to ensure businesses in low-lying areas were aware and prepared.
Queenstown Lakes District Council has stood up its emergency management team as a precautionary measure.
Clutha River running high
In the Clutha District the Tuapeka Mouth punt on-ramp has been closed after being partially submerged under the rising Clutha River.
A Clutha District Council spokesman said the strong river flow put the bridge in danger of being swept away.
"It's been going at 1200 cumecs for the past day or so. It's predicted to get to 1400 cumecs by midnight tonight."
He said it happened "every two or three years."
Council staff planned to use a digger to dislodge the bridge and pull it down stream into a bay away from the main river flow later this afternoon.
Road Closures 
The NZTA said State Highway 6 was closed at Inangahua Junction, where the Buller River was high and flooding covered the highway,  and Sh63 was closed at the bridge between St Arnaud and Renwick. The highway to Takaka (SH60) was closed between Lindsays Bridge and Waitapu Bridge.
Further south, SH94 between Te Anau and Milford Sound in Southland was closed earlier due to a slip at Lake Gunn but reopened after 11am.
Queenstown Lakes District Council has also closed roads.
Kinloch and Paradise roads and the Wanaka to Mt Aspiring Rd were closed almost 24 hours ago in anticipation of the wet.
This morning the council reported a tree down on Lower Shotover Road between Domain Road and Spence Road.
The road was currently open but would be closed when the tree felled later today